UPDATE (4/17): I completely missed the Four Rooms reference (Ted the bellhop to the left of Vincent Vega). Thanks go to Andrew Sigmund for the catch and Joshua Budich for the killer poster! The post has been updated accordingly.
It wasn't too long ago that I was praising Budich's
The City of Lost Children poster
, but damn if the man doesn't continue to create some of the prettiest film-inspired artwork around! If you couldn't already tell, today's entry is in honor of Joshua's Tarantino-centric "Brutally Cool" art print. Which by the way, is
on sale RIGHT NOW
! Check it out!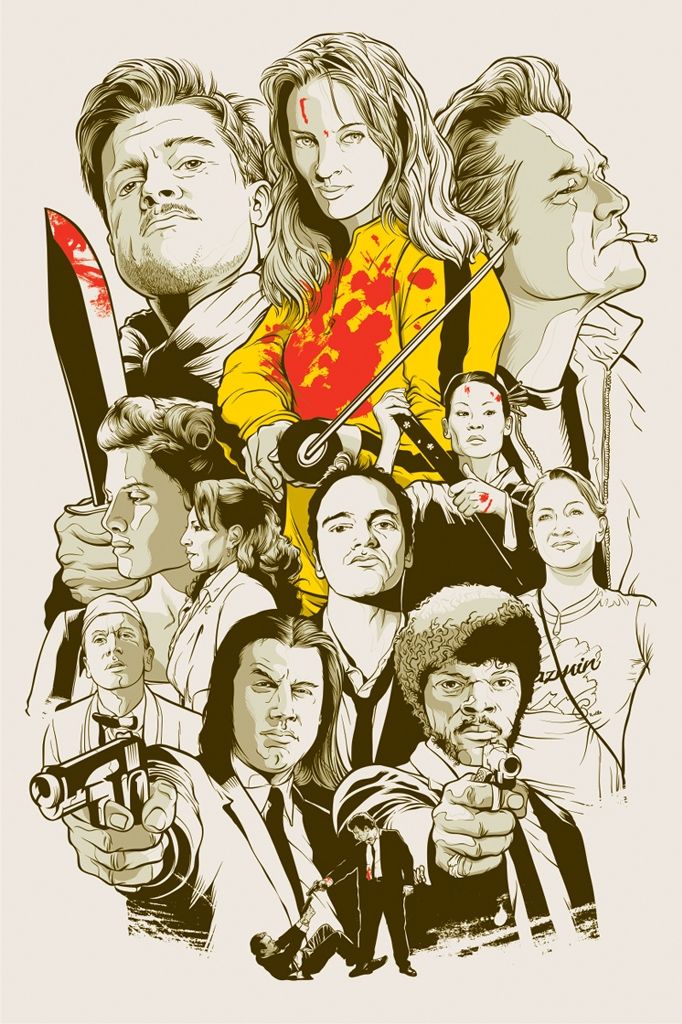 "Brutally Cool" Art Print
Joshua Budich
12" x 18" - Signed and Numbered
$25 - Limited to 150
Inspired By: Inglourious Basterds, Kill Bill, Death Proof,
Pulp Fiction, Jackie Brown, Reservoir Dogs, Four Rooms
Joshua Budich's "Brutally Cool" poster has me convinced that he needs to do an
Inglourious Basterds
print (and on the double). I mean, checkout that Aldo stubble and swastika-carving blade - it's a thing of beauty! Budich's ode to Tarantino captures the titular "Cool" with his usual style and aplomb, but more importantly exudes complete badassery - something Tarantino's films do often and without hesitation. Then again, if you're placing Jules Winnfield (played by Samuel L. Jackson) at the forefront of your design, you're guaranteed at least an 11 out of 10 on the Bad Mofo scale (not to be confused with a Chromatic scale). And while "Brutally Cool" may not be the most colorful work in Joshua's arsenal, the use of color is wholly appropriate and really pops in all the right (and bloody) ways.
Joshua Budich's
"Brutally Cool" poster
is currently
available
through
Budich's store
for $25 plus shipping. The
print
measures 12" x 18", is signed and numbered, and is limited to an edition of 150. To learn more about Mr. Budich, be sure to checkout his interview with Nerdlocker, which will be appearing at
nerdlocker.com
and head over to
joshuabudich.com
. Alright, all this writing has really worked up an appetite. I think I'm going to grab a Royale with cheese. Good luck all!