The second annual "Bad Dads" show curated by the fine folks at
Spoke Art
is right around the corner, meaning I'm frothing at the mouth in anticipation of some Wes Anderson inspired brilliance. I'll go ahead and preface this review by saying I'm one of those people who loves Anderson's quirky, colorful, cool films unabashedly and that my favorite movie in his filmography, a film that even many Anderson aficionados dislike, is
The Life Aquatic with Steve Zissou
. I'm not entirely sure why
The Life Aquatic
holds such a dear place in my heart, but it does, and I'll defend the film till my last breath (though my defense might be lacking if I can't explain why I like it so much). Thankfully Joshua Budich, an artist who has become a mainstay at Spoke Art's shows, has brought to life many of my favorite characters by way of some spectacular artwork.
"Bad Dads" Group Show Art Print
Joshua Budich
18" x 24" - Signed & Numbered
$50 - Limited to 100
I thought I'd start with the poster for the show, because, well, it's the poster for the show. I know I say this every time, but it just blows my mind whenever Budich releases a new print - they just keep getting better and better. I have a feeling that this one in particular will be an easy sell, because not only is the artwork impressive on just about every level, it also features the majority of Anderson's equally impressive filmography (
The Darjeeling Limited
and
Bottle Rocket
appear to be the only films missing). If there's one thing that I think Joshua Budich really excels at it's people. Whether it's people staring, people yelling, people pointing, people grimacing, or people smoking, the bottom line is this: the man gets people and can depict them without losing whatever undefinable element makes them them. And while there are plenty of directors that favor spectacle, special effects, and gore over character and relationships, Wes Anderson's movies have always been about people. Sure, his films feature some of the coolest tracking shots ever put to celluloid, and his art direction is immaculately colorful and unique, but it always comes back to the characters, often emotionally confused and / or stunted people that are just trying to figure out how to be happy. And Joshua Budich completely nails that. If there was one thing I would have liked to see included in this already bursting-at-the-seams artwork, it would be some small reference to the two Anderson films I previously mentioned were missing from the print, but that's a very insignificant complaint. It's a beautiful piece and belongs on the wall of anyone who has even the slightest interest in the movies of Wes Anderson.
Budich's "Bad Dads" group show art print
is currently
available
through the
Spoke Art store
. The
giclée
measures 18" x 24", will be signed and numbered, and will cost $50. I'm not completely sure what the edition size is since the
Spoke Art store
lists 100 and
Budich's website
lists 150, but either way I'm sure this one will sell out with a quickness.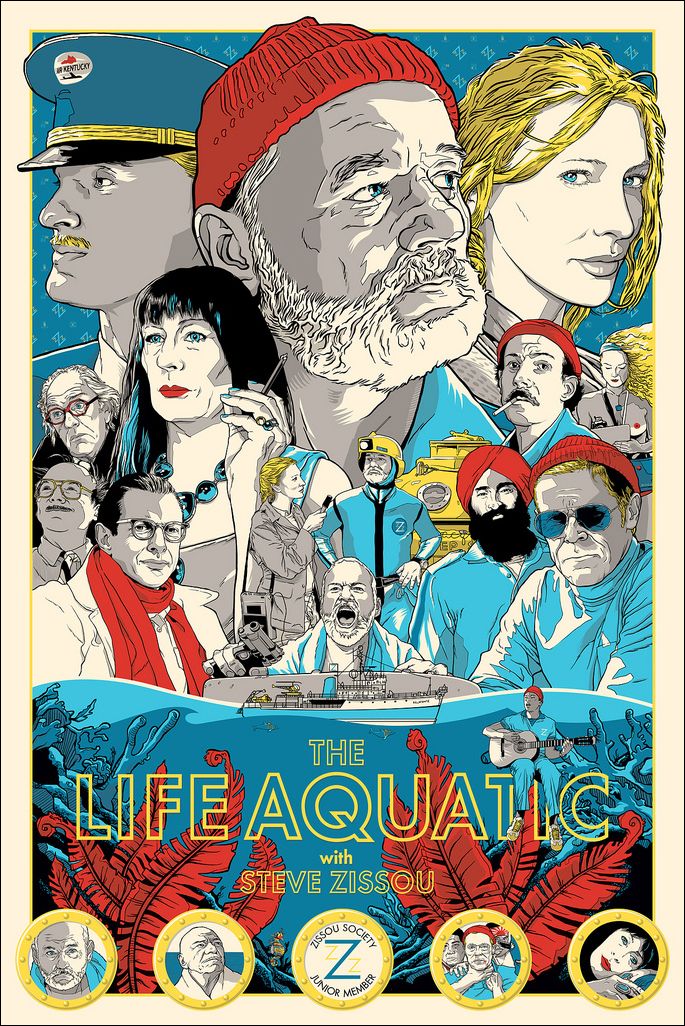 The Life Aquatic with Steve Zissou Movie Poster
Joshua Budich
24" x 36" - Signed & Numbered
$60 - Limited to 150
Like I said,
The Life Aquatic
is my absolute favorite Wes Anderson film (followed closely by the new classic
Fantastic Mr. Fox
). I love everything about it: the action, the dialogue, the badass-when-he-needs-to-be Steve Zissou, the jealous-asshole-pretty-much-the-rest-of-the-time Steve Zissou, the retro luxury research vessel, and the acoustic Portuguese Bowie covers by Seu Jorge (would you look at that, I guess I could defend the film after all). All of those elements come together to make a perfect movie, and thanks to Budich, a perfect poster. From the out-of-date yellows to the tiny candy-striped seahorse, this print includes everything but the kitchen sink. There's not much more to say than that. If you like the film, you'll love the poster; if you don't like the film, you'll probably still love the poster. I purchased mine the minute this went on sale and I'd recommend any fan of the film do the same. Joshua Budich's
Life Aquatic with Steve Zissou print
is currently
available
through the
Spoke Art store
for $60. The
screen print
measures 24" x 36", is signed and numbered, and is limited to an edition of 150.
If you like either of these posters I would advise you to
purchase
them before they sell out by visiting
store.spoke-art.com
. Spoke Art also released a few other "Bad Dads" prints today that I unfortunately didn't have time to write about, so even if you're not a huge fan of the Budich stuff I'd say check it out anyway. In addition to their packed
storefront
, you can stay informed about all things Spoke Art by signing up for their
newsletter
and following them
@spoke_art
. I'd also suggest visiting Joshua Budich's website by heading over to
joshuabudich.com
and following him
@jbudich
to learn more about the artist and see the rest of his work. If this didn't quench your "Bad Dads" art thirst, you'll have to wait until this Saturday (10/29) to see the art in person (San Francisco only), or a yet-to-be-disclosed date for your chance to purchase the prints online. I'll probably write another post once the remaining prints have gone online, so stay tuned. This show has quickly become one of my favorites.