UPDATED (10/27): Updated the post with pricing and availability. In other words: it's available right now!
My heart pounds with excitement whenever I find out that
Dark City Gallery
is releasing another
Dan Mumford
horror movie print, so you'll have to excuse me if I suffer a heart attack mid post. Mumford has conquered
The Thing
,
Evil Dead
,
The Fly
and now he's moved on to John Carpenter's 1978 All Hallow's Eve classic,
Halloween
.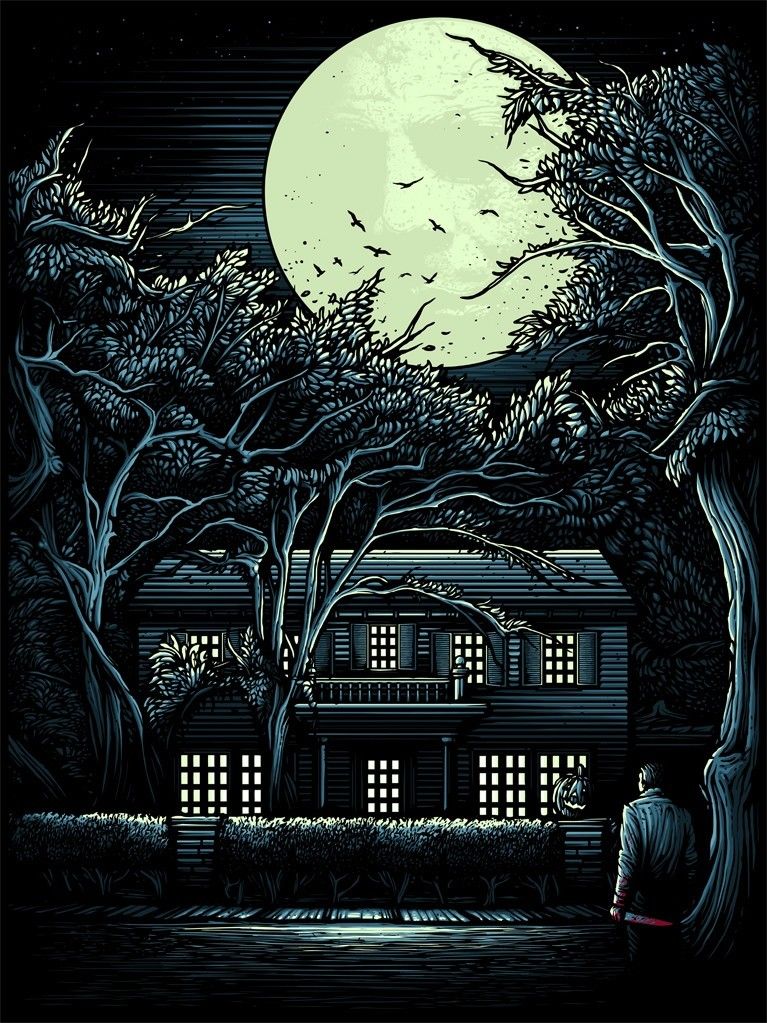 "The Night He Came Home" Art Print (Regular)
Dan Mumford
23.25" x 31" - Signed and numbered
£35 - Limited to 150
Inspired By: Halloween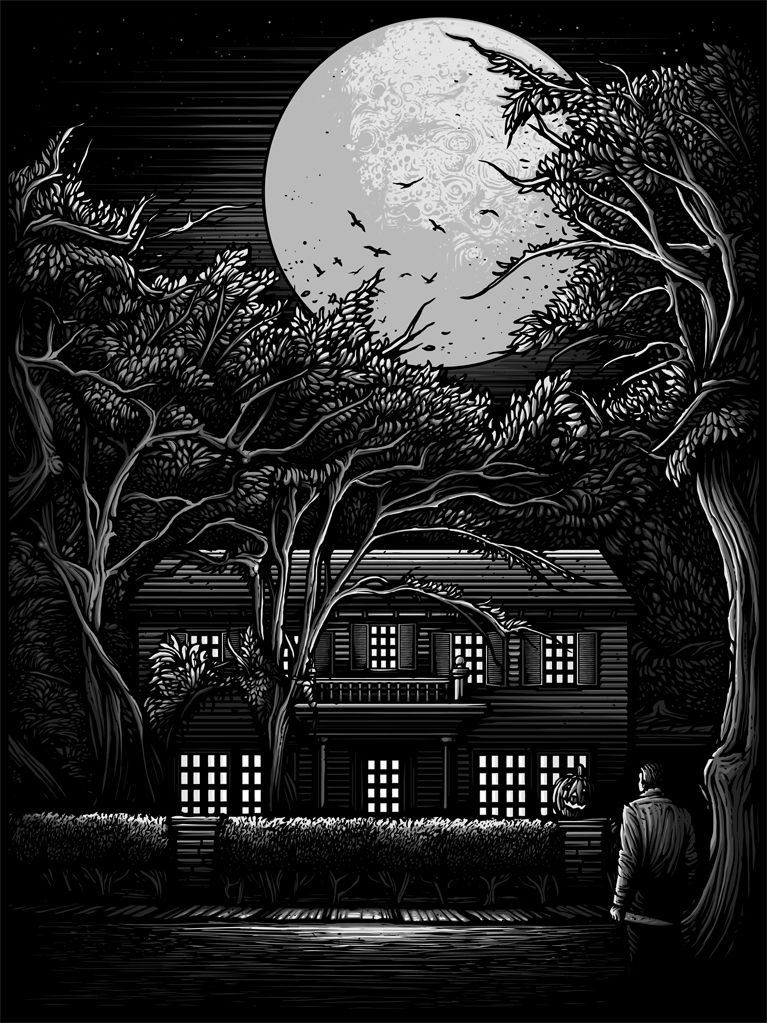 "The Night He Came Home" Art Print (Metallic / Glow in the Dark Variant)
Dan Mumford
23.25" x 31" - Signed and numbered
£50 - Limited to 75
Inspired By: Halloween
The first thing that struck me when I saw these, besides their oh-so-obvious beauty, was how different they were when compared to the previous three prints in Dan's horror movie poster series. Gone are the grotesquely mutated limbs and the turning-in-on-itself genetic monstrosities that made up
Brundlefly's
spliced physique, the
Thing's
human / canine mimicry gone wrong, and the inappropriate touching of
Evil Dead
'
s
demonic timber
. Instead, we're treated to a moment that's quiet and still, yet clearly full of dread. The artwork is 100% Dan Mumford, but it's a slightly different Dan Mumford than we've seen in posters past. I love both of these prints, and I'll definitely be getting the regular edition, if for no other reason than that it matches the color scheme of his previous three, but it seems the variant will feature plenty of unique extras to make it worth your while. And by that I mean an alternate colorway and metallic / glow in the dark inks. Finally, one of the things I enjoy most about these prints is something that doesn't necessarily jump out at you at first glance, and while I won't explicitly tell you what it is, I'll give you a hint: it's not made of cheese in this case. Too abstract? Alright. It's the moon. Look at the moon. What a nice touch!
Dan Mumford's
"The Night He Came Home" prints
is currently
available
through the
Dark City Gallery
website. Both
prints
will measure 23.25" x 31", meaning they'll be much larger this his other horror movie posters, and will be signed and numbered by the artist. The regular version costs £35 (around $56) and is to be limited to 150, the glow in the dark variant will cost £50 (approximately $80) and be limited to 75. While you're deciding which one to purchase, I recommend checking out Dan Mumford's portfolio at
dan-mumford.com
and following him on Twitter
@danmumforddraws
. And you should probably visit Dark City Gallery at
darkcitygallery.com
, where you can still purchase all of Dan's cinematically inspired prints (though very few
The Thing
prints are left)! Oh yeah, and you should DEFINITELY watch
Halloween
. G'night!