In case it's not obvious, I'll be using these posts to wax cinematic about the movies I saw at this year's Fantastic Fest and provide a brief description of each film to give my reviews some context. I plan to write-up the films in the order I watched them and in full disclosure I stole all of the synopses from a number of websites that are not Posterocalypse. By the year 2012 I just might have made it through all eight days. Day three. Go!
EL INFIERNO (2010)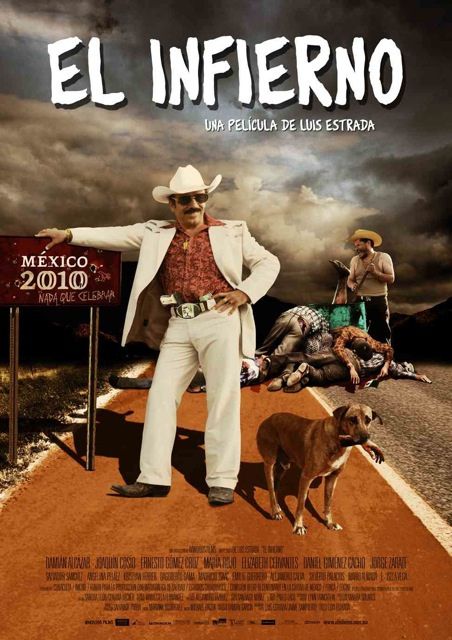 SYNOPSIS: Benjamin García, Benny, is deported from the United States. Back home and against a bleak picture, Benny gets involved in the narco business, in which he, for the first time in his life, is surrounded by money, women, violence and fun. But he'll soon he'll discover that the criminal life does not always keeps its promises.
REVIEW: I thoroughly enjoyed this film! Imagine
Scarface
, but in Mexico, and that instead of being a power-hungry drug lord, our "hero" is a much more sympathetic and likable guy. Be warned though, this is a long film, but unlike a lot of people who described the film as overly tiresome, I never felt like I was slogging through anything. While
El Infierno
(I refuse to call the film by the name the studio arbitrarily chose for its American release) can be all over the place tone-wise, and many may find it a bit long in the tooth, I thought it was a refreshingly honest / tragic / hilarious look at something we only read about in the papers and see on the news. Find this one if you can, it's worth it.
STATUS: As far as I know, this film doesn't have any American distribution. Hopefully we'll at least see a DVD in the near future.
RATING: 5/5 Stars
MELANCHOLIA (2011)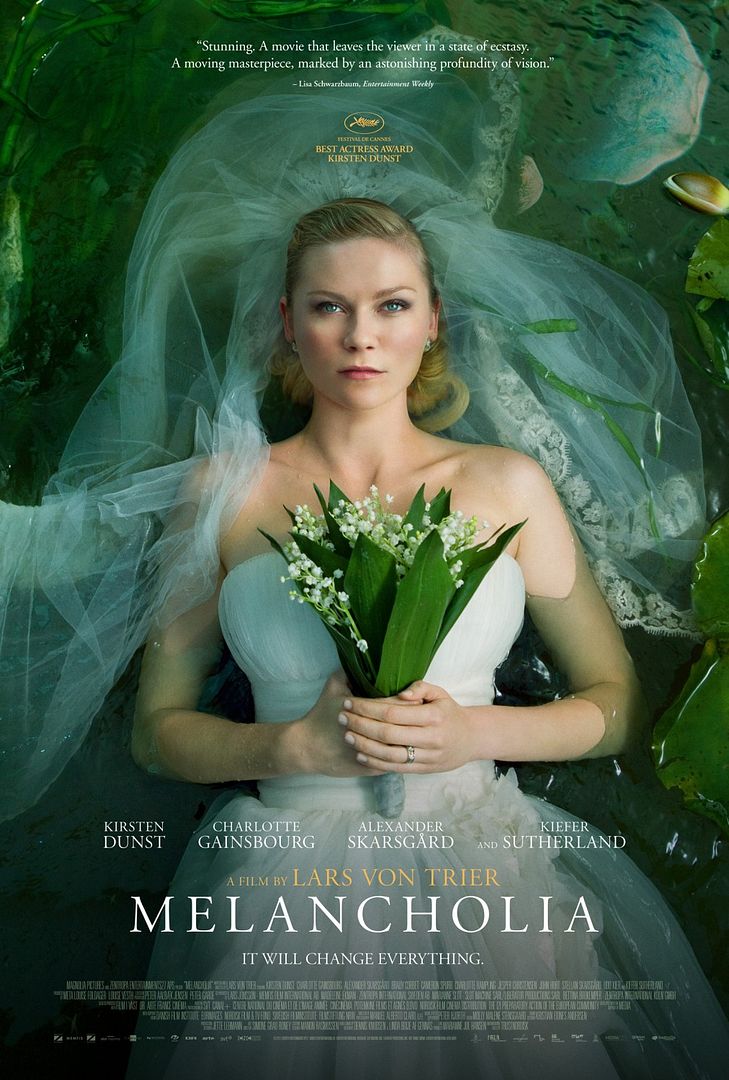 SYNOPSIS: Two sisters find their already strained relationship challenged as a mysterious new planet threatens to collide into the Earth.
REVIEW: I saw this with my girlfriend and she hated it, and I can completely understand why. The only character you really even like in this film has his heart broken and leaves halfway through the movie. It's not a happy film, but then again the move is called
Melancholia
. It's a film about depression on an apocalyptic scale, and it's painful to watch, but there's also a lot to love here.
Melancholia
aggressively confronts the viewer with a tragic tale (featuring some strangely hilarious moments), some of the most beautiful photography you'll see all year, and a ton of top-notch performances. Bottom line:
Melancholia
is a depressing film about depression that will probably depress you, but if you like your cinema challenging and beautiful, than be sure to check out Lars von Trier's latest.
STATUS: Magnolia Pictures has the US distribution rights. The film is currently in theaters and is available via
VOD
RATING: 4/5 Stars

AN AMERICAN WEREWOLF IN LONDON (1981)
SYNOPSIS: Two American tourists in Britain are attacked by a werewolf that none of the locals will admit exists.
REVIEW: Not too much to say here.
An American Werewolf in London
is the greatest werewolf movie ever made. There. Alright, alright, I'll write a little bit more. John Landis' lycanthropic cinema is like sweet, sweet candy for a genre fan. It blends comedy, fantasy, horror, romance, drama and nazi werewolf-demons (a very niche genre) together, creating an altogether magical medley of seemingly disparate elements. In addition to watching this lupine classic on 35mm, the coolest thing about the Fantastic Fest screening was the Q&A with Rick Baker after the film. While a lot of what the special effects master had to say could have just as easily been found in a
Blu-ray
or
DVD
supplement it was pretty exciting just to be in the same room with the guy. Oh yeah and we got a poster from the famed Olly Moss. That wasn't too bad either. If you haven't seen this film you're really missing out. Go. See. It. Now.
RATING: 5/5 Stars (duh)
KNUCKLE (2011)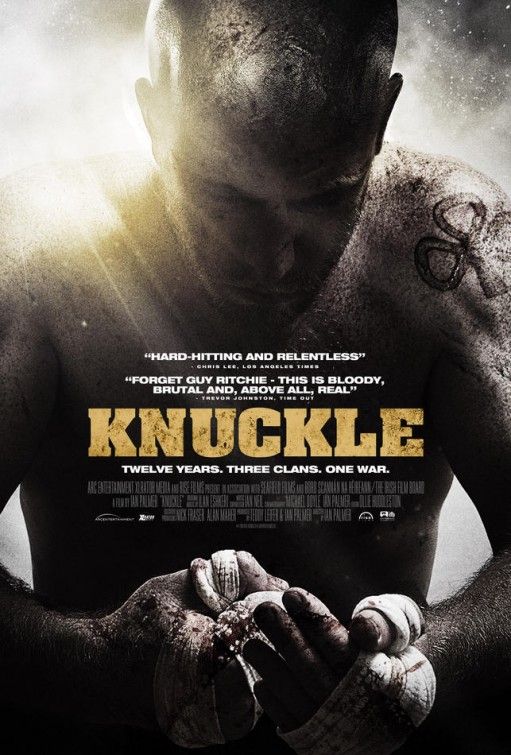 SYNOPSIS: An epic 12-year journey into the brutal and secretive world of Irish Traveler bare-knuckle fighting. This documentary follows a history of violent feuding between rival clans.
REVIEW: Remember how badass Brad Pitt was in
Snatch
? Well, Pitt has nothing on these guys.
Knuckle
follows a few traveling clans of Irish bare knuckle boxers with the majority of its focus on the McDonaghs and the Joyces. It's just insane. As you get deeper and deeper into
Knuckle
, the fighting becomes secondary as the confusing familial relations between the clans comes to the forefront and shows you just how absurd all the fighting really is and how little it takes to start a clan war. One of the neatest things about seeing
Knuckle
at Fantastic Fest was that not only was the director, Ian Palmer, there, bare knuckle boxer James Quinn McDonagh was also in house to speak about the film. Go see this one with a quickness.
STATUS: ARC Entertainment (II) and XLrator Media have the US distribution rights. Currently the movie is only playing at film festivals.
RATING: 5/5 Stars
PICK OF THE DAY: Knuckle