UPDATE (11/19): Random.org has picked a winner and it's Danny Haloossim! Congrats Danny! He'll be receiving the Nightmare on Elm Street 3: Dream Warrior movie poster later this week. Thanks for entering everyone, this has been the most successful giveaway yet (in terms of response) and I absolutely loved some of your responses. I've got a lot more posters to hand out, so be on the lookout for another giveaway next week. Most importantly, thanks for reading!
I promised a giveaway this week and so I shall deliver. Depending how often you read this site, you may or may not know how much I love the
Nightmare on Elm Street
franchise. As a young man (probably too young), I delighted in the ridiculous one-liners and the surreal kills by everyone's favorite wisecracking murderer. For this reason, I'm only too happy to share my love of gore and cheesy punchlines by offering up Electric Zombie's
Nightmare on Elm Street 3
print as this month's giveaway.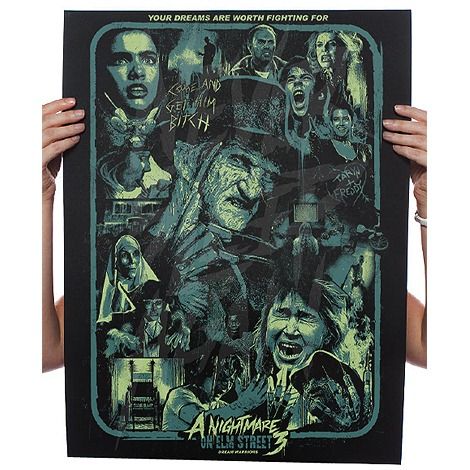 Nightmare on Elm Street 3: Dream Warriors Movie Poster
Electric Zombie (AKA Kyle Crawford)
18" x 24"
Limited to 50
(1)
Nightmare on Elm Street 3: Dream Warriors
print by Electric Zombie
Unfortunately, since I'm the one paying for shipping this contest is only open to readers in the US (sorry everyone else, international shipping can be expensive and complicated). The rules are pretty simple: the only thing you have to do to win is leave a comment on this post with your email address and your full name and on November 19th I will randomly pick and email the winner to get his or her shipping address. Entries are limited to one person per household. Yay! Free stuff! Good luck!