What I'm going to post today is a little lazy as some of it is from my previous poster blog, but I'm honestly shocked (and maybe even a little angry) that this print is still available for purchase. It should have sold out within minutes of going online (a la Mondo)!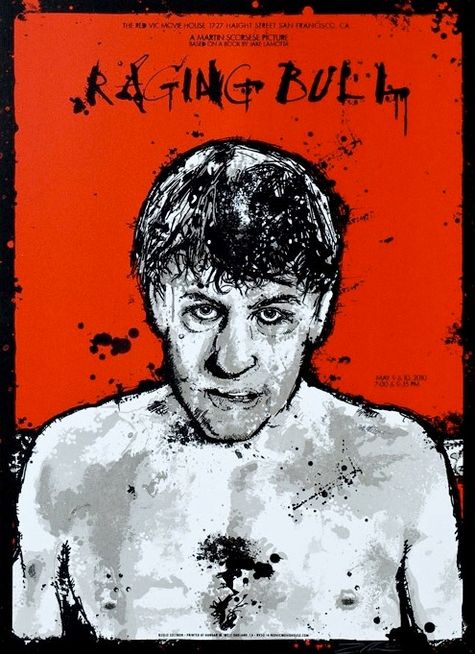 Raging Bull
Zoltron's
Raging Bull
poster is absolutely beautiful and perfectly reflects Scorsese's breathtaking and uncompromising vision. One of the things that first popped for me with this poster was the artist's crazed Ralph Steadman-esque title work. It just gives everything around it a manic energy, something De Niro as La Motta absolutely exudes in certain scenes. Which brings me to the man himself, Jake La Motta. This guy just looks beat to hell. The blotchy variations of gray on his body really go a long way in not only illustrating what appears to be blood, sweat, cuts and bruises, but also providing some visual depth to his face and torso. The bottom line is this, it's an amazing film and an absolute stunner of a poster - you should own both!
This post is actually perfectly timed because Zoltron's
Raging Bull poster
has been available for about one year now (I bought mine in May of 2010), so this is kind of like an anniversary. The
poster
was originally designed for the
Red Vic Movie House
in San Francisco, but whether you're by the bay or not, this belongs on every cinephile's wall. The
Raging Bull poster
measures 16" x 22", is limited to an edition of 100, costs $40 and can be purchased through
Zoltron's website
. Again, how are these still available? While you're there be sure to take a look around at some of Zoltron's other insane designs (*cough*
Tim and Eric gig poster
*cough*). Tomorrow I'll be covering Chris Ware's new poster for Mondo. Have a great night everyone!