This is another one of my cheat posts, since some of it comes from an older post of mine, but seriously, I can't believe this poster didn't sell out ages ago. If you're not familiar with the films of Sam Peckinpah, I'd highly recommend immediately buying or renting
The Wild Bunch
as your introduction and then watching
The Ballad of Cable Hogue
,
Bring Me The Head of Alfredo Garcia
, and top it all off with the masterpiece that is
Straw Dogs
. [Note: If you've really never seen a Peckinpah film head immediately to A.V. Club's "
Gateway to Geekery: Sam Peckinpah
" article. It's great reading!]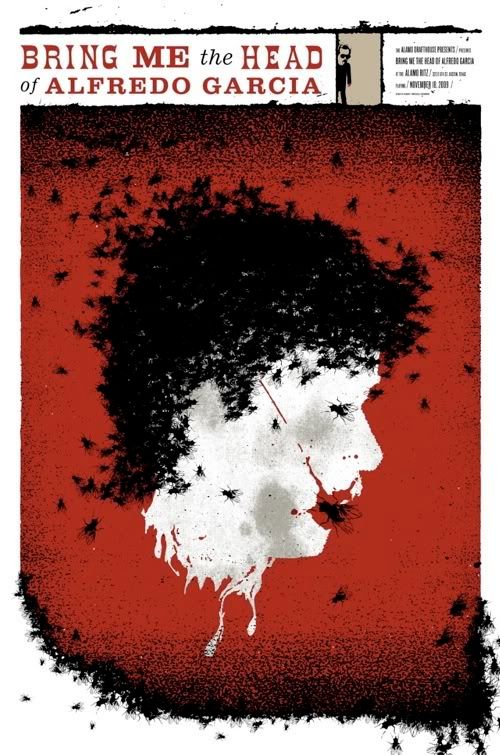 Bring Me the Head of Alfredo Garcia
This may not be entirely clear just by looking at the image above, but a ton of the detail is actually made up of small flies - it's amazing to see up close. Now don't get me wrong, I'm all for new flicks, but movie artwork for a film like Peckinpah's
Bring Me the Head of Alfredo Garcia
will never go out of style. This is one of those great posters that you could proudly hang on your wall whether you're 16 or 66. It's disturbing, it's dirty (I'd go as far as to say foul), but most importantly it's absolutely beautiful.
It's understandable that this poster sold out at Mondo, but how on earth is it still available at the artist's
website
? Jeff Kleinsmith's
Head of Alfredo Garcia movie poster
is available for
purchase
through
Patent Pending Industries
for $40. The print measures 24" x 36" and is limited to an edition of 40. Do yourself a favor and get one right now.