If you're in the know about comics then there's a good chance you've heard of Chris Ware. I'll admit that I've only read a few of his strips and have never really been that into his work, but there's no denying the man's got a gift for exquisite compositions. His layouts often possess a beautifully precise, almost blueprint-like level of detail and complexity and are always exciting to look at, even if the message doesn't necessarily hit home with me.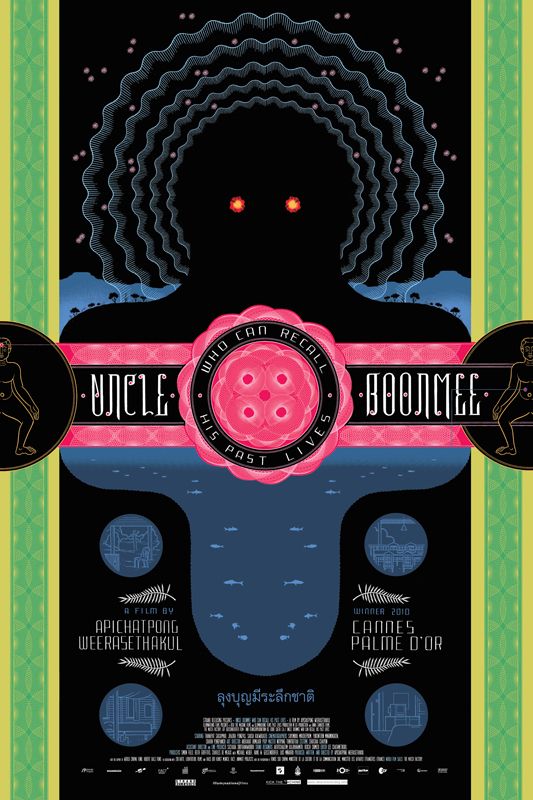 Uncle Boonmee Who Can Recall His Past Lives
This poster has kind of an interesting back story in that it's the official American one-sheet for the film and as I understand it, was not originally designed for Mondo, but was instead adapted, shrank down, and split by Mondo for a screen print release. I'm honestly not sure I've ever heard of Mondo doing anything like that before (Martin Ansin's / All City Media's
Moon print
comes to mind, but even that included some additional art customization). Now that my tangent has been followed to its logical conclusion, let's take a look at this bizarrely beautiful poster. If this movie is half as strange as its synopsis implies, then this print hits the nail on the head. I know in several international
Boonmee one-sheets
a Bigfoot-type creature with glowing eyes played a large role in the designs, and here we're seeing Chris channel this element, although, with an altogether more abstract interpretation. I honestly don't really know what to make of this poster, other than I imagine it's insanely detailed upon closer inspection and it's at once completely indescribable and hypnotic in its execution (this'll be a ten color screen print!). I could ramble on, but I'm honestly at a loss, so here's a quote from Ware that will provide a lot more information than I could ever hope to muster (taken from
New York Magazine's Vulture
section):
"I wanted to get at both the transcendent solemnity of the film while keeping some sense of its loose, very unpretentious accessibility," says Ware. "This being a poster, however — and even worse, me not really being a designer — I realized it also had to be somewhat punchy and strange, so as to draw viewers in and pique their curiosity without, hopefully, insulting their intelligence."
Mission accomplished I'd say. I'm really interested to see how quickly this poster sells due to its higher price point ($75) and its overall oddness. With that said, Chris Ware is a celebrity in the art / comic world, and pretty much everything Mondo releases nowadays instantly sells out. For those with some extra scratch, Ware's
Uncle Boonmee 24" x 36" poster
is limited to an edition of 400 and will go on
sale
tomorrow (5/20) at a random time through
Mondo's website
. To get all of the release details be sure to follow
@MondoNews
and keep those fingers on the F5 button.
And if that wasn't enough…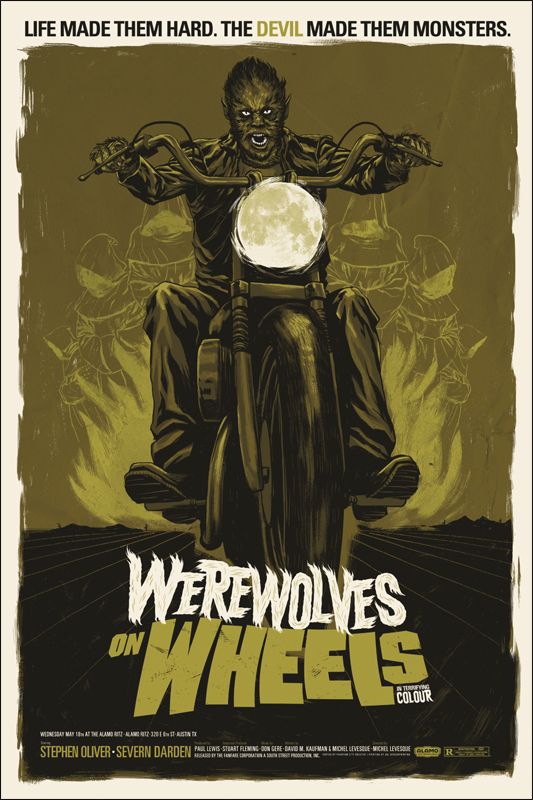 Werewolves on Wheels - Regular Edition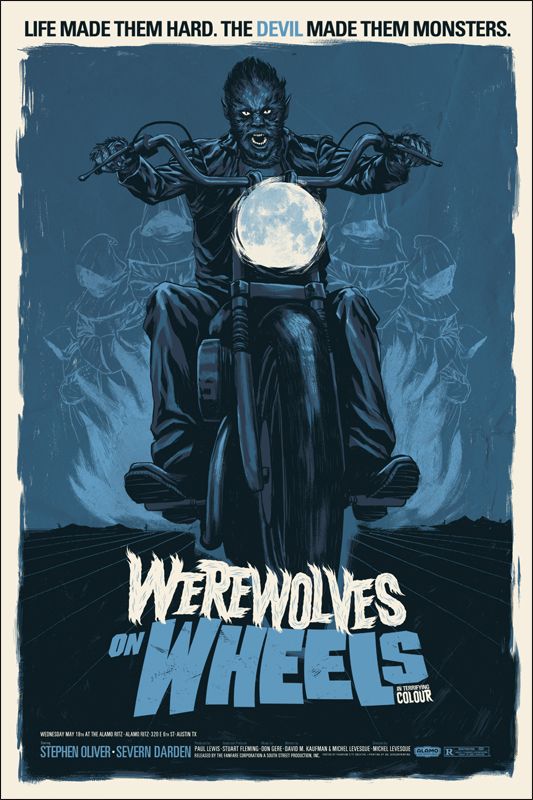 Werewolves on Wheels - Variant Edition
Posterocalypse favorite
Phantom City Creative
has completed a regular and variant poster for the film
Werewolves on Wheels
. I've never seen
Werewolves on Wheels
, but judging by the ridiculous tagline and complimentary bat-shit crazy images on display, I need to remedy that immediately. Both the regular and variant version of this
poster
will be on sale tomorrow (5/20) at a random time on
Mondo's site
. The regular print is limited to an edition of 235 and will cost $40, while the variant is limited to an edition of 65 and will cost $60. Both posters measure 24" x 36". To keep up with
Phantom City Creative
be sure to visit their
website
, their
store
and follow
@PhantomCityCrtv
. Good luck all!