The last few releases I've written about have been from fairly successful and well known artists, but there's something really refreshing about finding someone you've never heard of and singing his or her praises. With that sleep inducing preamble out of the way I'd like to present a fantastic piece of artwork from a Mr. Donald Smith.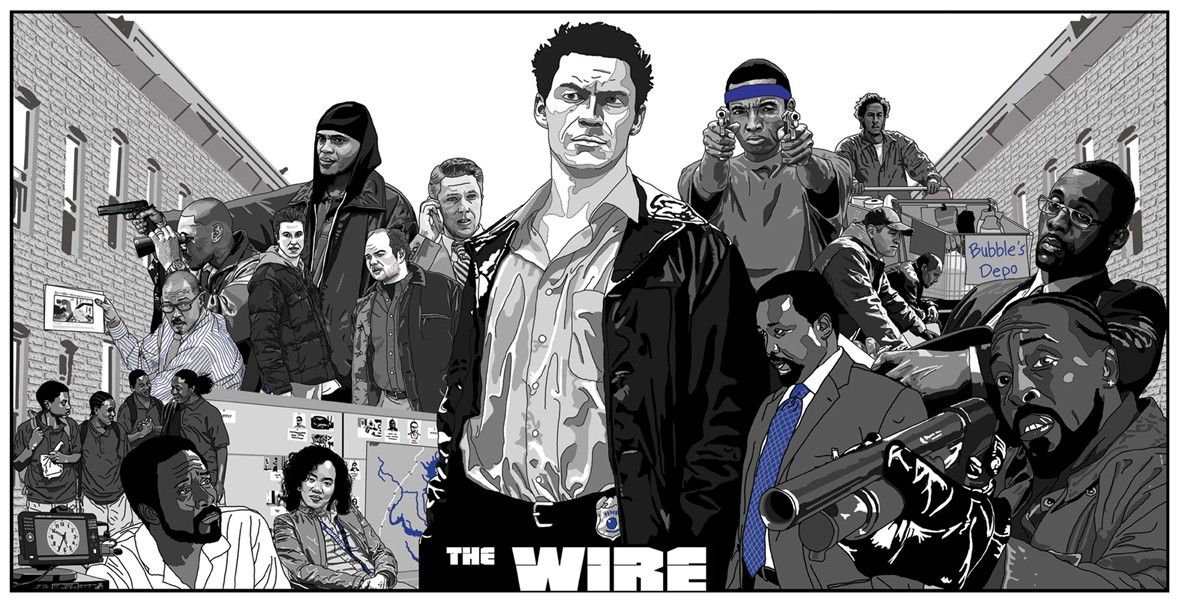 The Wire
The Wire
, in my humble opinion, is the greatest television series ever made. That may change in the future, in fact I'm sure it will, but for now
The Wire
sits unparalleled in my estimation. The reason I bring this is up is because I'm constantly stupefied as to how in this current explosion of pop culture artwork (
Gallery 1988
,
Mondo
,
Spoke Art
,
Phone Booth Gallery
, etc.) there hasn't been more
Wire
-centric art. What gives? Thankfully, Mr. Smith has seen fit to fill that dry well with this very
Wire
-centric print. Looking at the layout and the character construction I'm immediately reminded of the beautiful line work of one Tyler Stout, with its cramped composition and its huge cast of characters on display. And that shouldn't be too surprising,
The Wire
is after all an ensemble show and over its five brilliantly plotted seasons there were more than a few (far more than a few) characters we grew to love and hate. I also love the streaks of blue that seem to dance throughout the print almost teasing your eye. Needless to say, I'm excited to see what Donald does next.
Donald Smith's
The Wire print
measures 21.5" x 11" and is currently
available
through his
Etsy storefront
. The
poster
is limited to an edition of 40 (as of this writing Etsy lists only six available) and costs £20.00 (approximately $34). If you'd like to learn more about Donald and his artwork be sure to check out his
Etsy store
and his blog
Donald Smith Graphics
. And please, if you've never seen
The Wire
, watch it! I'll leave you with a quote from the infinitely quotable Omar.
"I'll do what I can to help y'all. But, the game's out there, and it's play or get played. That simple." - Omar Little