And the Mondo goodness continues. If you haven't seen
I Saw the Devil
already, you should probably stop reading this post and
rent
or
buy
the film immediately - it's really, really good! And then I'd recommend binging on some other great Korean films including
Mother
,
The Man from Nowhere
,
The Chaser
, and the now classic
Oldboy
. Only after that, would I recommend pointing your browser at this site again and reading through this post. Sure, you may have missed out on an awesome poster release, but at least you'll have experienced some amazing foreign films.
I Saw the Devil - Kevin Tong
Kevin Tong's
I Saw the Devil
poster is definitely for fans of the film. I can easily picture someone who hasn't seen the movie scratching his or her head in confusion and then politely asking what on earth the film is about. Before continuing I wanted to say this, I've been a huge fan of Kevin Tong for the past two years, but it's the stuff he's released in the last three months (his
Dune
, "
Thus Spoke Zarathustra
", and
I Saw the Devil
prints) that have been nothing short of amazing. It's really neat for an artist to come into his own right before your eyes. Now back to the poster. I love all of the attention that's paid to the knobs and radio interface. I've noticed a lot of Kevin's work touches on the technical, featuring an almost AutoCAD-like level of detail, and this print is no different. But I'd be selling the artwork short if I didn't mention the gorgeous winter wonderland / nightmare that South Korea's snowy landscape plays in the film (at least in the beginning of the film). The bloody title on the windshield is also an inspired touch and looks amazing with its bright sanguine text against the poster's mostly muted palette. What an awesome poster.
Kevin's
I Saw the Devil poster
, which will be available tomorrow (5/12) through
Mondo
at a random time, measures 24" x 36", is limited to an edition of 185 and will cost $45. It's been clear with the last few
Mondo
releases that they're trying to change up the drop times, but one thing is for certain, if you want to know the exact moment the poster goes up be sure to follow
@MondoNews
. I'd also recommend heading over to Kevin's
website
for a look at his other work. There's a good chance he might put together a process video for his
I Saw the Devil poster
too! Those are always fun.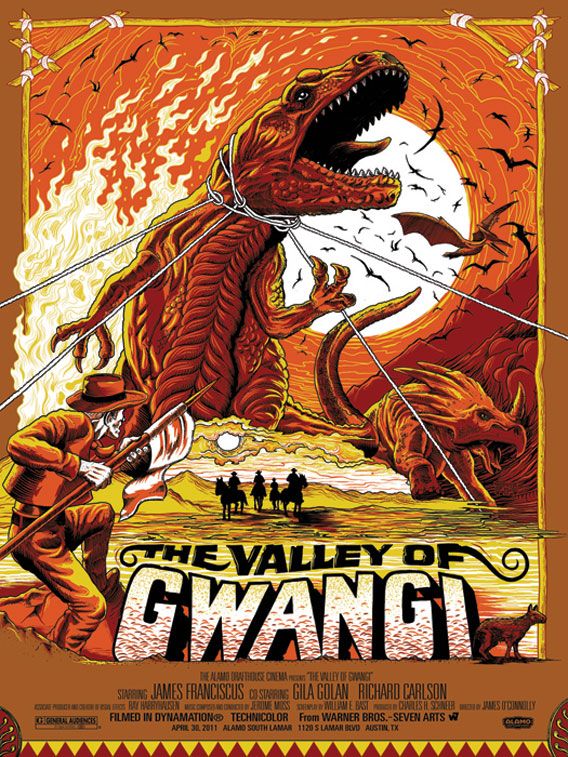 The Valley of Gwangi - Mike Saputo
And if that wasn't enough Mondo also decided to announce the release of Mike Saputo's Harryhausen-tastic
The Valley of the Gwangi poster
.
The Valley of the Gwangi print
will be available tomorrow at a random time through
Mondo
for $35. The
print
will measure 18" x 24" and will be limited to an edition of 115. To see more of Mike Saputo's brilliance check out his blog and portfolio at
mikesaputo.com
.