Hey everyone! It's been a long time, a really long time, but I'm all moved in, my workload has become a bit more manageable, and most importantly I now have Internet access at home. I apologize for the barren wasteland this site has become in the last month, but I promise to start delivering content at a normal frequency from now on. Let's start the show shall we?
I've wanted to write about these posters for a while now, but I felt the need to wait until they were all released (and I had some free time and Internet access) so we could view them as a single cinematic snapshot of a bygone era. In cooperation with
Twitch Film
and
TIFF Bell Lightbox
,
Phantom City Creative
, a wonderful Toronto-based design studio that I've
written
about in the past, has created a dazzling set of posters for a film series titled Back to the 80s and programmed by Todd Brown.
I've written a brief review of each poster and was lucky enough to get some additional info from the man behind the art, the very generous and talented Justin Erickson. Unfortunately, all of these posters were part of an an insanely limited run and are no longer available, but thankfully Phantom City Creative has released
art print
versions (sans text) for
purchase
. Head over to the
Phantom City Creative store
to pick up your very own 80s keepsake.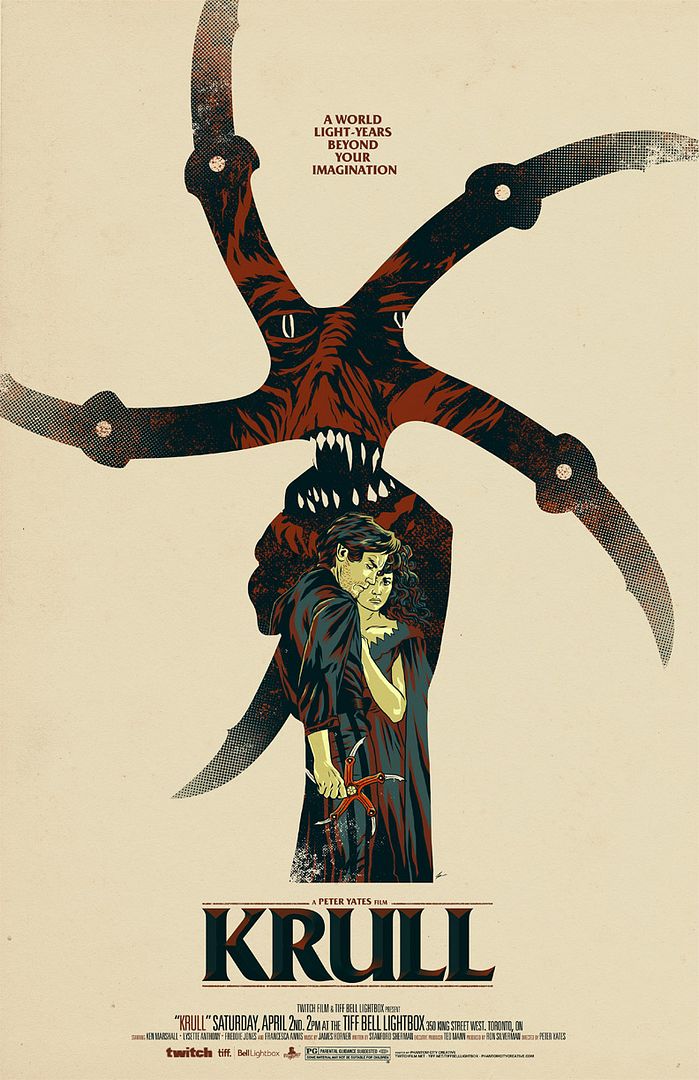 Krull
I absolutely love this poster and I'm so, so pleased that Phantom City Creative chose to frame the characters within the mystical glaive, thereby creating a universe-ending glaive-within-a-glaive paradox. This poster so perfectly captures the cheesy-but-serious tone of the film, it's a real shame these guys weren't making posters when the film originally came out in 1983. I'm always a sucker for a minimalist poster design, but I'm especially in awe of this
Krull
poster, because the artist was able to pack so much detail and meaning into such a small area. Well done! The
Krull art print
measures 11" x 17", is limited to an edition of 150 and only costs $30 through
Phantom City Creative's big cartel storefront
.
In addition to being a fantastic artist, Phantom City Creative's Justin Erickson is just a plain nice guy and was kind enough to tell me a little more about what exactly he wanted to do with this poster:
"To be honest this was the movie I was most excited to create a poster for! While I know it's far from perfect, I will defend it until my dying breath. The glaive is the most recognizable symbol from the movie, so I chose to make Colwyn claiming the Glaive the central image of the poster. Contained in the image is the love story at the centre of the movie: Colwyn and Lyssa embracing with the Beast looming over them"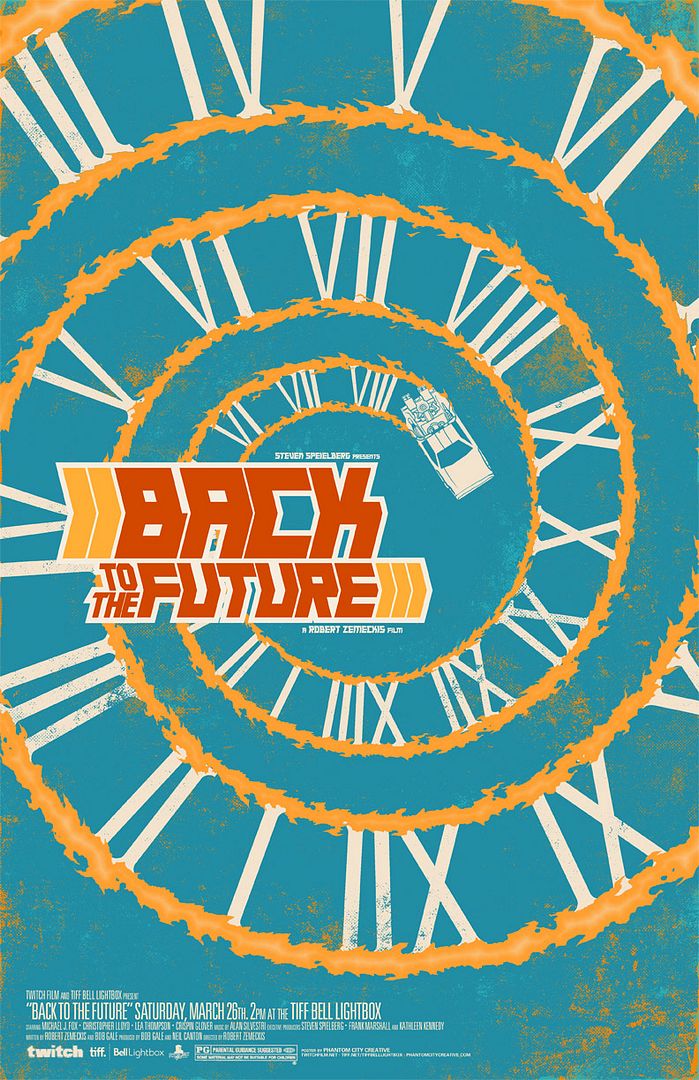 Back to the Future
I watched this film the other day and what a blast it was. Michael J. Fox was so young and energetic, it's impossible not to root for him as he initially messes up and then attempts to fix his and his family's timeline. Phantom City Creative crafted an extremely classy poster here and I'm not entirely sure why, but the color palette feels so appropriate. I'm also quite impressed with the straight forward way they chose to depict time travel by using the pimped out DeLorean's tire fire and Roman numerals. I may be alone in this, but I feel like time travel can be a hard thing to convey in a static image, and they completely nailed it. The
Back to the Future art print
can be purchased through
Phantom City Creative's store
for $30.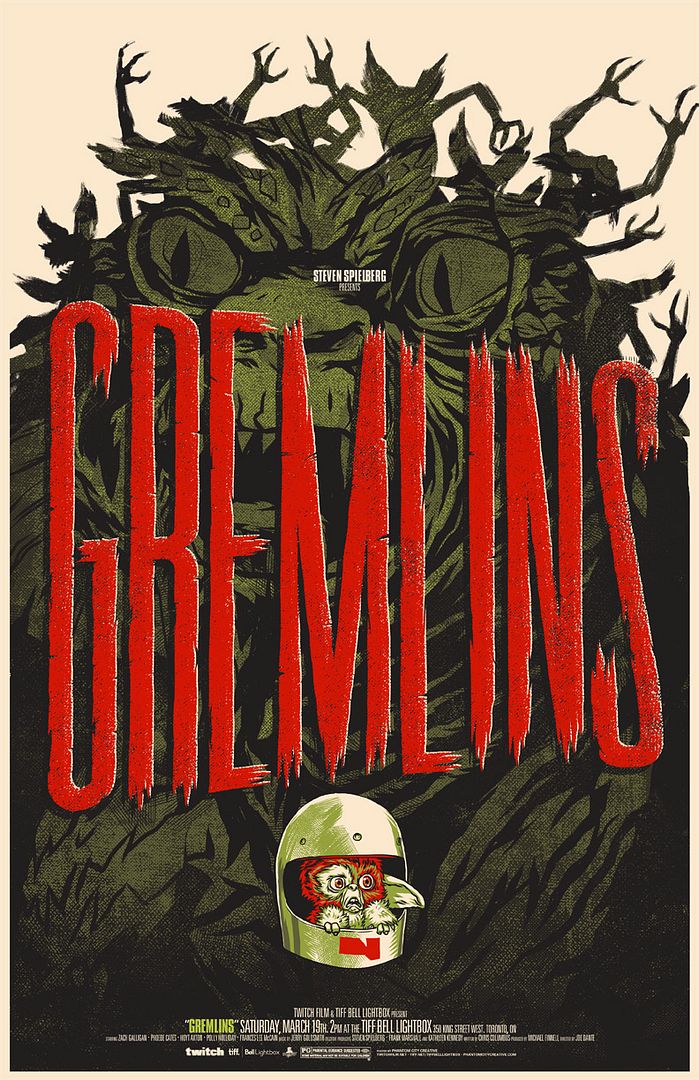 Gremlins
This poster is beautiful. 'Nuff said. Alright, alright, I guess I'll go into a little more detail. From the silhouettes of the gremlins that form some sort of demonic and disgusting mutated Mogwai tree line to the frightened furball known as Gizmo, this poster works in every conceivable way. I especially appreciate the inclusion of Stripe in the background as he and the gaggle of gremlins (what is a group of gremlins called?) loom ominously over our adorable hero. The
Gremlins
title was also a nice touch, it looks just damaged enough to have been created by an angry gremlin horde (horde definitely seems more appropriate than gaggle). Want your own
Gremlins art print
? Well you're in luck, because for $30 you can pick
one
up.
Justin Erickson of Phantom City Creative fame on his inspiration for the poster:
"The most exciting moments of the film are at the end when the newly transformed Gremlins tear through Kingston Falls causing havok. I chose the imagery to be the silhouette of the marauding gremlins which contains the image of their leader, Stripe threatening the innocent Gizmo taking shelter in the bike helmet."
The Last Starfighter
The Last Starfighter
poster is particularly brilliant with its clever depiction of the titular video game. This poster really brings you back to the mid 80s with its pixilated rendition of an alien fighting force and radical choice of clothes. If you can't tell, Phantom City Creative has a knack for conveying a film's premise in a very easily digestible manner. Good stuff! The
art print
is available for $30 and is limited to an edition of 150.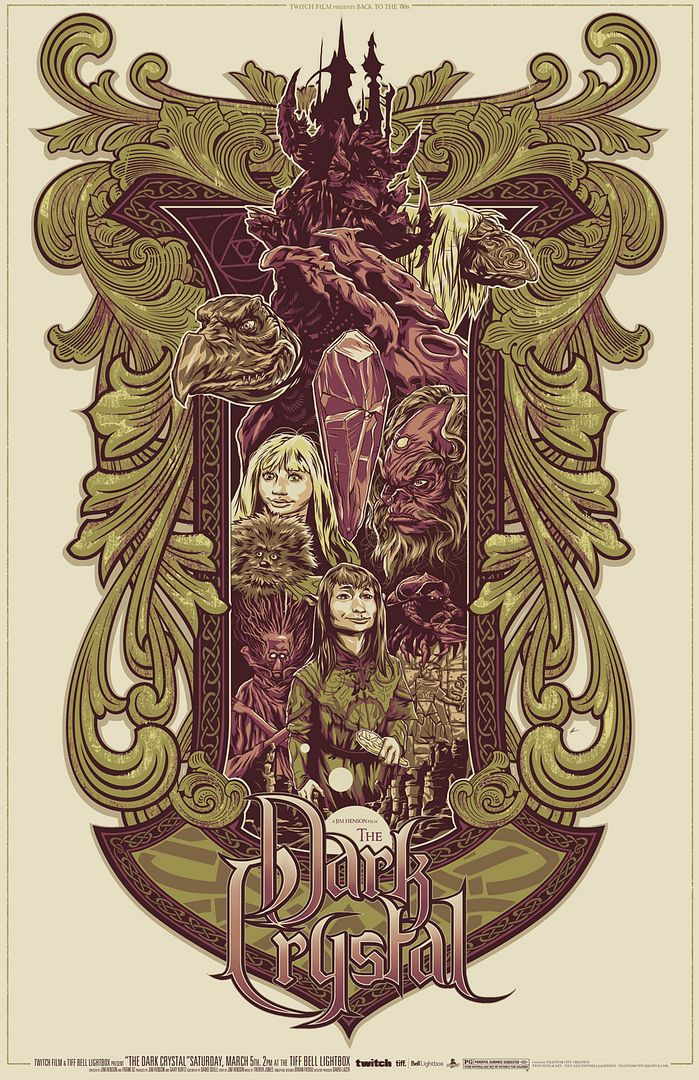 The Dark Crystal
It's been a long while since I've seen this film, but that hasn't changed how much I loved it as a kid. The characters are expertly drawn and colored, but I think it's the layout that really blows me away. Phantom City Creative designed a beautiful emblem / coat of arms-type border that really classes up the entire thing. I really like the choice of colors too. The muted greens and violets work well together and evoke a worn aesthetic in this intricately constructed shrine to one of the greatest children's films of the 80s. The
art print
is available through
Phantom City Creative's storefront
.
Justin Erickson was nice enough to tell me a little more about his inspiration for this piece:
"In preparation for creating this poster (as with the rest of the series), I re-watched the Dark Crystal and was amazed at how intensely imaginative the visuals of the movie are. Right away I knew I wanted to represent the chief characters in this ornate frame which became a sort of guilded portal into the world of The Dark Crystal. From there it was a matter of arranging the characters in a compositionally pleasing way with the Dark Crystal at the centre of it all."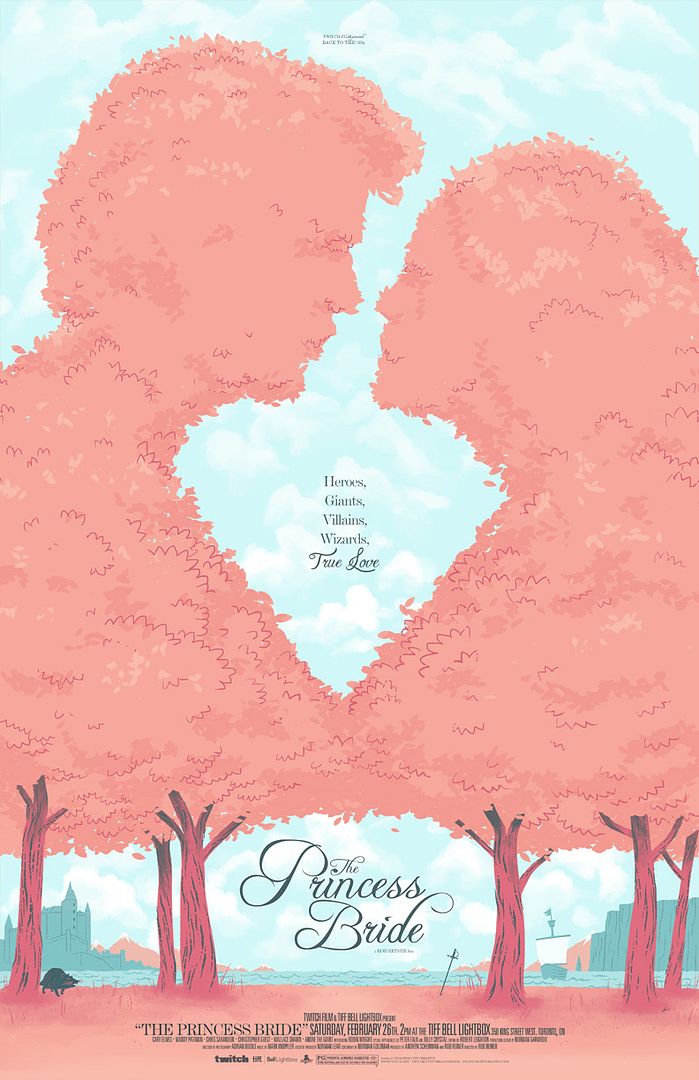 The Princess Bride
I watched
Legend
for the first time last week and have to admit I was quite underwhelmed. Don't get me wrong, it's a beautiful looking film, and Tim Curry as Darkness was kind of awesome, but for some reason
The Princess Bride
and
Legend
inhabit the same part of my brain and it turns out I only have enough love for one mid-80's fantasy epic. Sorry
Legend
, congrats
Princess Bride
. This poster really captures the daydream-like storytelling on display in the film, but also gives a little wink and nod to some of the more humorous (R.O.U.S. – rodents of unusual size) and action-packed (Inigo Montoya's sword) elements of the film. Head over to the
Phantom City Creative store
to pick up your own
Princess Bride art print
.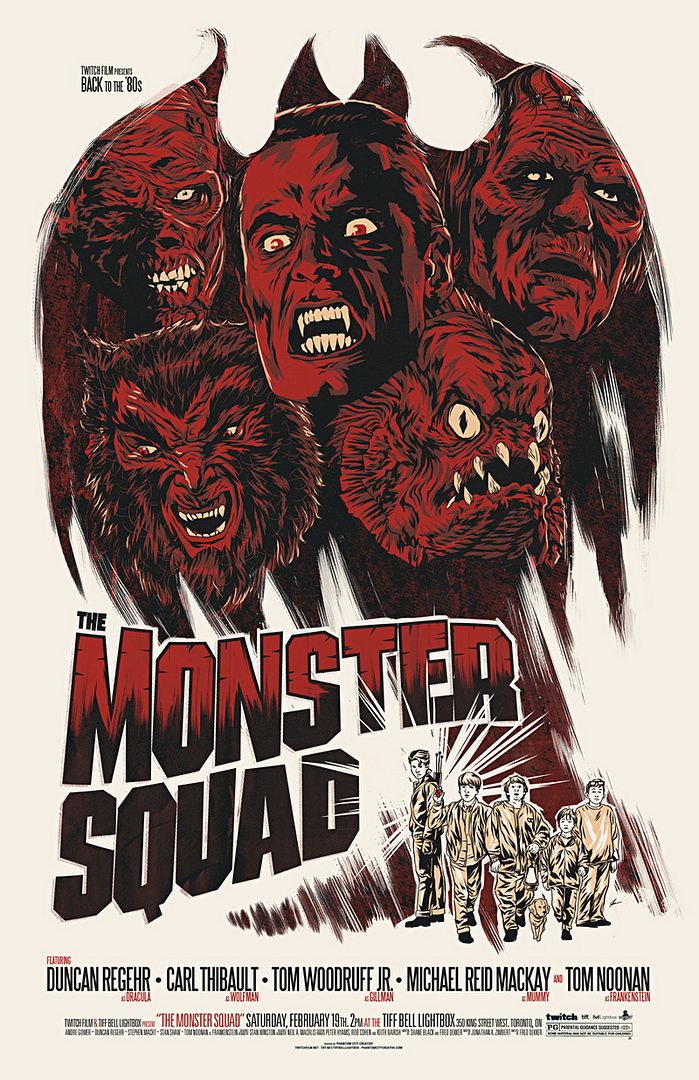 The Monster Squad
This poster reminds me of something I would have seen in the 40s or 50s, which is quite fitting given how nostalgic the film is about the iconic Universal monster features of that era. Speaking of monsters, wow, Phantom City Creative did a fantastic job with the faces of these creatures, somehow managing to capture every bloodthirsty shadow, mummified wrinkle and putrefied scale. I especially like how they included each and every face of the menacing quintet within the shape of Dracula's vampire bat form. An image can be meticulously and masterfully drawn, but it's all for nought if the layout is shoddy, thankfully that's not a problem here. I look at this poster and wonder to myself, does the Wolfman indeed have nards? And I have to assume the answer is unequivocally, yes, Wolfman's got nards. Pick up the 11" x 17"
art print
version of this poster by visiting
Phantom City Creative's store
.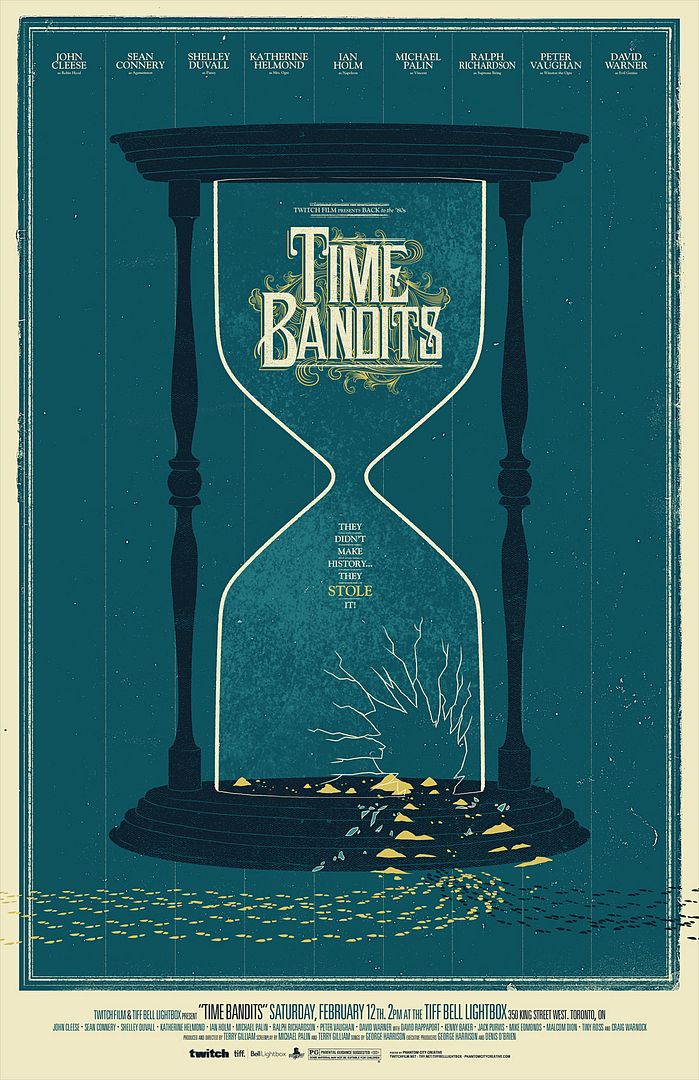 Time Bandits
This classic film totally blurs the boundary between a children's movie and adult's film with some surprisingly dark moments and has just enough crazy in it to probably appeal to the schizophrenics as well – in other words, it's a real crowd pleaser. Looking at all of these posters together really makes me realize just how many awesome films came out of the 80s, a decade I had often only thought of as excessive and superficial. I love that Phantom City Creative included the original slogan on so many of these posters, including their
Time Bandits
artwork, it really adds an extra layer authenticity to the works and makes me feel all mushy inside (in a good way, not a food poisoning sort of way). The 11" x 17"
print
is
available
for $30 and is limited to an edition of 150.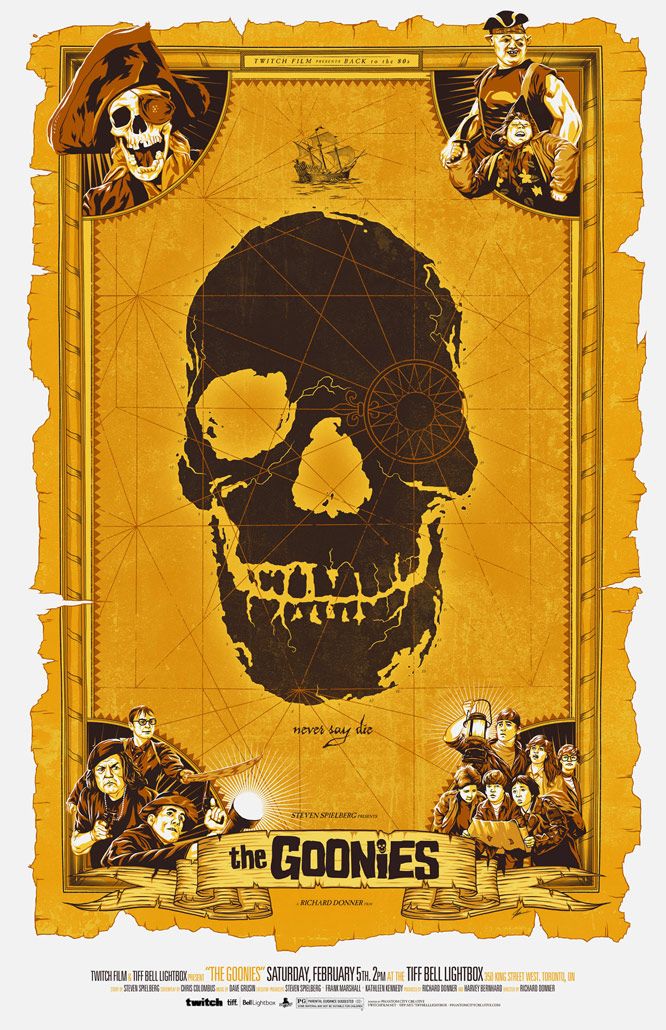 The Goonies
We come to the last film in Phantom City Creative's Back to the 80s poster series and it's a biggie. With the exception of
Back to the Future
,
The Goonies
is probably the most fondly remembered and popular in this collection of films. I'm actually surprised I don't see more Mondo-type
Goonies
posters, given the popularity of the film, so an additional thanks goes out to Justin and Paige for creating a worthy celebration of the film that played such an important role in our childhoods and in the larger pop culture (I'm of course talking about the film's biggest contribution, the truffle shuffle). This poster / treasure map gleefully plays up the adventure action in the film and displays portions of the film's cast in each corner. If you don't absolutely love the upper right corner of the poster, there's a good chance that you and I would disagree on a good many things sir or madam. To get an
art print
of this poster (again, sans text) head over to
Phantom Creative's store
now!
If you're like me and love'em all you can grab the
entire set
at the reduced price of $220 through
Phantom City Creative's store
.
| | | |
| --- | --- | --- |
| The Bat | The Last Man on Earth | House on Haunted Hill |
And if that wasn't enough, they JUST released their
Vincent Price collection
(pictured above) in honor of the man's 100th birthday, consisting of posters for
The Bat
,
The Last Man on Earth
, and
House on Haunted Hill
through their
store
for $30 each and measuring 11" x 17".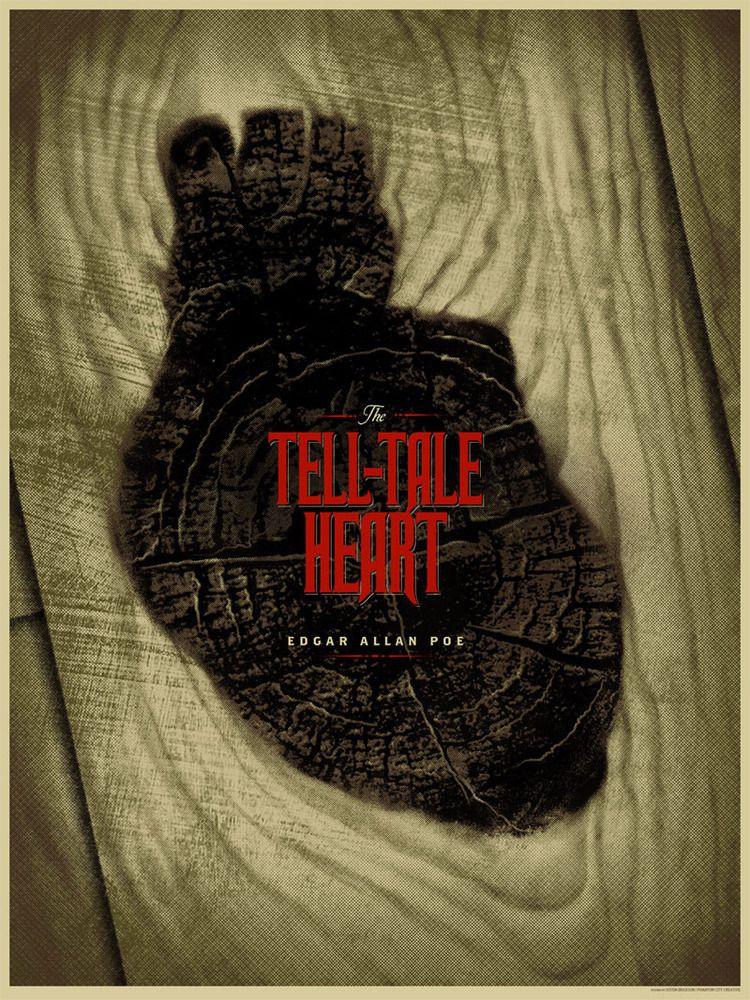 The Tell-Tale Heart
Finally, Phantom City Creative has also released their
Tell-Tale Heart art print
that was a part of Gallery 1988's Required Reading show, which is now available for $45, measures 18" x 24" and is limited to an edition of 50. Wow, these guys have been busy, let's hope the trend continues!