It's exceedingly clear that Eric Tan is not only a wonderful artist but has a lot of respect for the past. The reason I mention this is because his posters (at least for Mondo) tend to have a somewhat retro look. I'm not sure if this is the propagandist appearance his Mondo posters hint at or the general cleanliness and effecient use of space that is quickly becoming a Tan trademark, but unlike Olly Moss' art, which seem more minimalist than anything, Eric's posters suggest a celebratory, and at times sentimental, attitude rather than a cleverly calculated deconstruction. In other words: I think his posters have a lot of heart and I quite like that about them.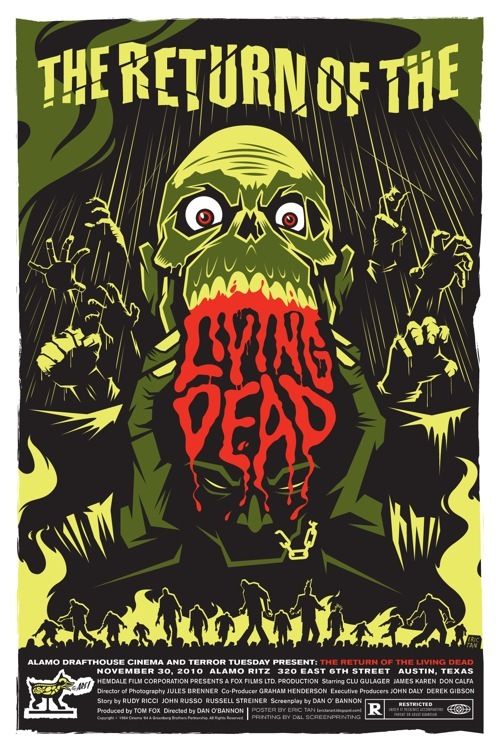 The Return of the Living Dead - Regular Edition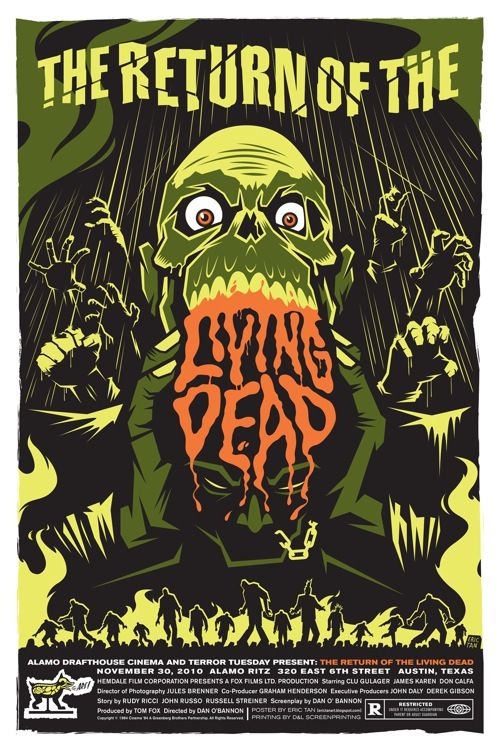 The Return of the Living Dead - Variant Edition (Glow in the Dark)
Now I've never seen the 1985 film
The Return of the Living Dead
, but I can only imagine based on the components in the above images that zombies are somehow involved, things get grabbed by hands (lots of hands) and there is an 80's punk element or at least an 80's piercing element present (hence the chain piercing). This poster would be the perfect companion for Eric Tan's
The Warriors
poster
due to the similarities in style, color and the fact that they both represent classic cult films. And they would look pretty BOSS hanging together. Yeah, that too.
These posters will be available Friday (12/10) at a random time through
Mondo
so if you want to get one of these striking prints you'll need to pay attention to the
@MondoNews
twitter feed and/or sign up for Mondo's
newsletter
. The posters measure 24" x 36" and are hand numbered. The regular edition costs $40 and is limited to an edition of 125. The variant edition costs of $75, is limited to an edition of 65 and was screen printed with glow in the dark inks. Bueno suerte!
To learn more about Eric Tan be sure to check out his
blog
. And if you're like me and haven't seen the film you can buy the
DVD
or
Blu-ray
OR rent it at
Netflix
. Your call really.