I love movies and I love posters, ipso facto (did I use that correctly?) I love everything that Tom Kavach creates. I randomly happened upon Mr. Kavach while browsing
inPRNT!
, a site where artists can easily sell and distribute their art, and was just blown away by his work. His style bares a striking resemblance to Mike Mignola with just a hint of Jack Kirby, but of course reducing an artist's output to such a superficial comparison isn't fair to anyone. Let's just agree that his art is fantastic and you'd be a dolt if you didn't follow his sure-to-be stellar career. I'm being completely serious when I say that everything I've seen on his blog and through his inPRNT!
storefront
has blown me away.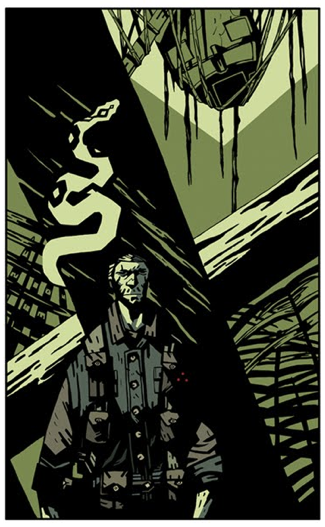 Jim Cooper
Remember that guy's body that was completely
flayed
by the Predator in
Predator
? Sure you do. He was hanging upside down from a tree and had a
dog tag
that identified him as Dutch's old Beret buddy, Jim Hopper. Yep, that's the guy. Well, this is a picture of what Jim Hopper looked like BEFORE all of his skin was ripped off. How great is that? Well not that great for Jim Hopper obviously, but you get the gist of it. Tom Kavach, obviously a fan of great cinema, has really done an awesome job depicting the soon to be deceased Green Beret (take a look at his right arm if you don't believe me). Complete with felled trees, deadly serpents, and a demolished helicopter, the jungle never looked so ominous.
Still not sure what this print is all about? I'll let the artist explain in his own words. The following quote was taken from the Tom's blog about his portrait series celebrating 80's icons…sort of. Read his entire
post
for more info as I'm only highlighting one of the three portraits he created.
"For anyone who hasn't been following the blog recently, I've been working on a series of portraits of obscure characters from classic 80's movies. The catch, however, is that these characters are dead and have never been seen before on film. Having only ever been mentioned in fleeting dialogues between the main cast, the viewer is left to create the character for themselves."
Tom Kavach was also nice enough to shed a little more light on who exactly this Jim Hopper character was.
"Referenced in Predator. He was part of the first team sent into the jungles of South America by Dillon and the CIA. They went in looking for a downed chopper carrying a "cabinet minister and his aide" but what they found was the sharp end of the Predator's wrist blade. All that was left to identify Hopper was his Dog Tags. Although he was not in the physical condition of his superior, Dillon, or his comrade Dutch, he was still a highly decorated, veteran officer in the Green Berets with over 100 successful missions."
This wonderful
giclée
is available for purchase through
inPRNT!
for $24.99 or $40, depending on the size you want. "Jim Hopper" is an open edition print, meaning its edition is not limited to a certain number, and is printed on 100% cotton rag archival paper. To learn more about this artist I highly recommend checking out, not only his
blog
and
portfolio,
but also his inPRNT! artist
page
. He's got some really great stuff for sale. And if you haven't seen
Predator
, what are you doing reading this? Seriously? Buy it, now!