If you visit this site with any regularity, you already know I tend to write reviews for film and television inspired prints that are either currently on sale or are about to go on sale. And while I'll still be pouring the majority of my efforts into those sorts of posts, my daily "Poster Per Diem" feature will focus on awesome prints that have since sold out, never existed in the first place (AKA concept posters) or just bear mentioning. In other words: this is my chance to say, "I never got a chance, for whatever reason, to write about you on this here website, but I think you're really purty and I want to let the world know." Or something like that. Oh, and Per diem is latin for "per day" or "each day."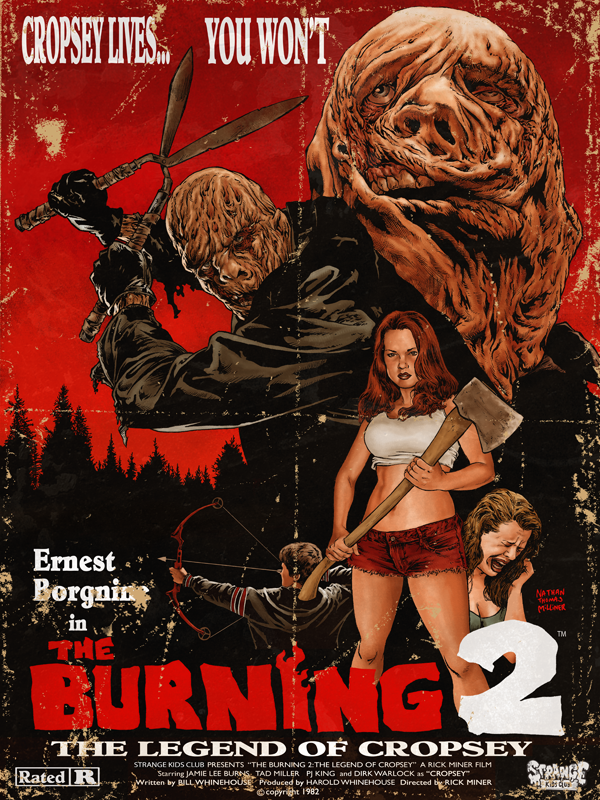 The Burning 2 Movie Poster
Nathan Thomas Milliner
18" x 24" (Giclée) - Numbered
$35 - Limited to 100
Remember that time in
The Burning 2
when Cropsey was chasing Jamie Lee Curtis, gardening shears in hand, trying to kill her? I mean
really
trying to cut her up bad. Oh yeah, and I think Ernest Borgnine ran the summer camp where it all took place. You remember that, right? And if memory serves, the film played briefly during the summer of 82, but only really found success as a cult classic years later. Wait, wait. Never mind. I'm fairly positive I just made all that stuff up based off of the information included in the image above. You see, the twisted mind behind
Strange Kids Club
, a site you should probably visit immediately, recently announced a limited poster series that celebrates some of his favorite lesser known horror movie sequels (and by "lesser known," I mean "non-existant.") Now you've got it! The
above print
, created by artist Nathan Thomas Milliner, is a loving "what if" commissioned by a truly devoted horror fan and is
currently available
for
purchase
for $35. Head over
strangekidsclub.com
to get yours now. And to see more of Milliner's terror inspired art, stop everything you're doing and visit
rebelrouserart.com
. You'll be glad you did!