I meant to talk about the following three posters before the big move, but naively underestimated the amount of work it takes to pack a one bedroom apartment and move its contents 330 miles North. Thankfully, I'm (sort of) set up at my new locale and loaded to the gills with Bayer Back & Body, in possession of an Adderall-like focus, and intent on delving into exactly what makes
Skuzzles' latest
offerings so bloody fantastic. Let's take a look at the evidence, shall we?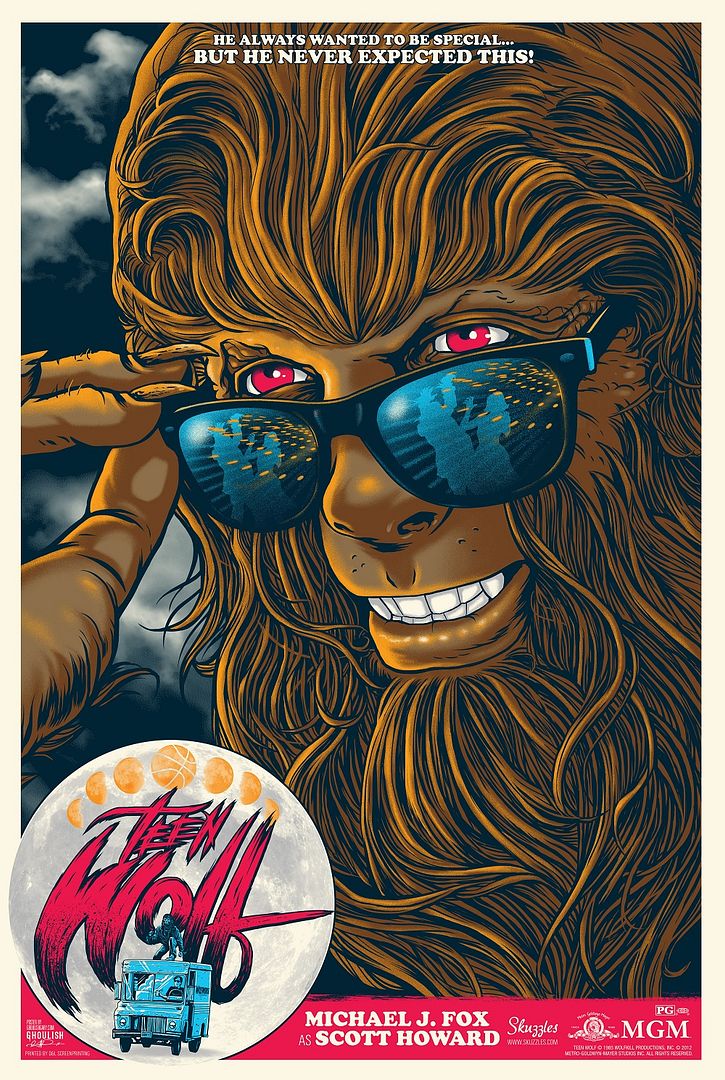 Teen Wolf Movie Poster (Regular)
Ghoulish Gary Pullin
24" x 36" (Screen Print) - Numbered
$40 - Limited to 165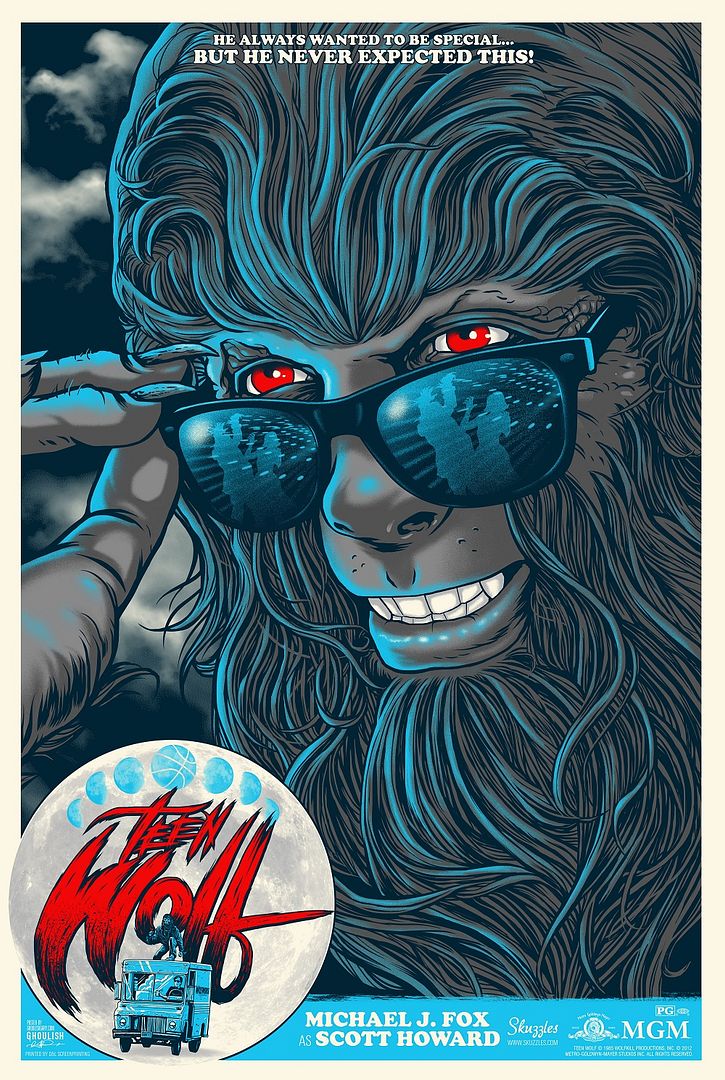 Teen Wolf Movie Poster (Variant)
Ghoulish Gary Pullin
24" x 36" (Screen Print) - Numbered
$60 - Limited to 75
As you may already know, I'm a big, big fan of Ghoulish Gary Pullin. And, if like me, you're looking at the above, I think it's safe to say he's done the Michael J. Fox starring cinematic slice of 1980s life justice ... hirsute, bristly, lupine justice. There's a lot to love about Pullin's delightful taken on
Teen Wolf
, but my favorite touch is something you probably didn't immediately notice. I'm talking about the ingenious use of basketballs to suggest the varied lunar phases above the film's title. It's not a mind-shattering addition by any means, but it speaks volumes about the artist's attention to detail, as it's clear the guy behind this print gave a damn and then some about his design and the film. A
regular
and
variant
version of Gary's
Teen Wolf poster
, both measuring 24" x 36", are currently
available
through
skuzzles.com
. To learn about the talented man behind this artwork, head over to
ghoulishgary.com
and follow
@ghoulishgary
.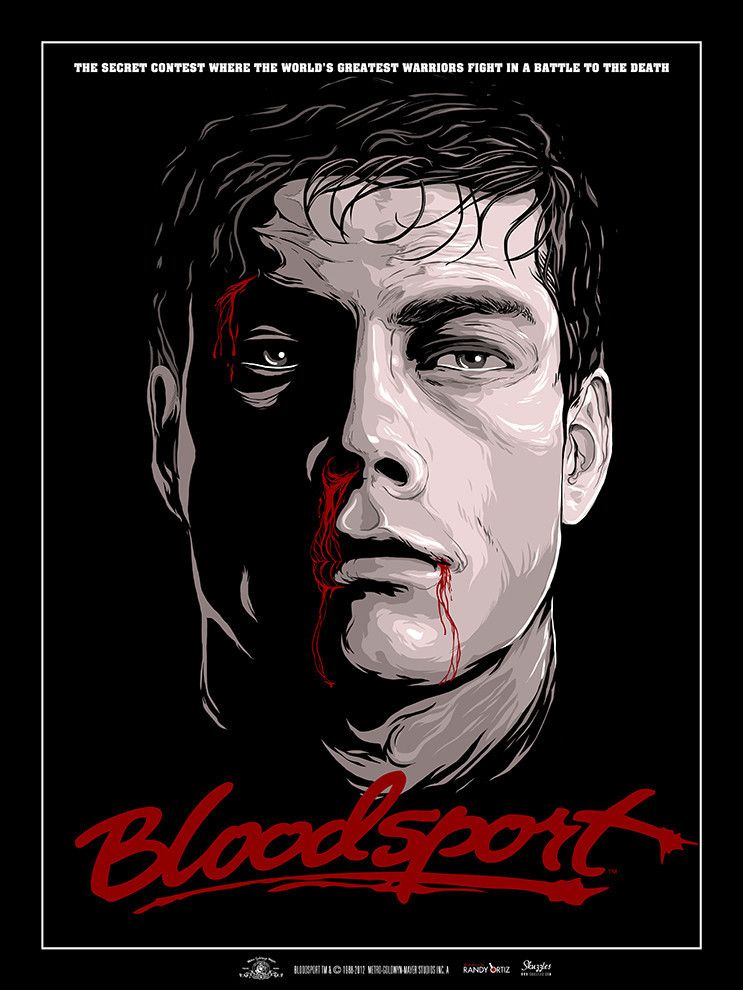 Bloodsport Movie Poster
Randy Ortiz
18" x 24" (Screen Print) - Numbered
$35 - Limited to 175
Not content to leave the 80s be, Skuzzles also recently released an officially licensed
Bloodsport
print by artist Randy Ortiz. Unlike the jam-packed
Teen Wolf
movie posters, Randy's
Bloodsport
artwork has a simple and singular focus: Jean-Claude Van Damme's bloodied but determined visage. While I wouldn't have minded seeing a spinning kick or two, I've got to admit, there's something really intimidating and altogether badass about the design's stripped down approach. This brings back warm (if hazy) memories of watching Showtime as a kid. (Yay for children watching uber-violent uber-cheesy action flicks without their parents' knowledge!) Randy Ortiz's
Bloodsport print
is currently
available
through the
Skuzzles storefront
for $35. To see more of the artist's work, be sure to visit
damnthedesign.com
and follow
@damnthedesign
on Twitter.
If you like what you see above, or hell, even if you don't, I highly recommend checking out
skuzzles.com
,
signing up for the mailing list
, and following them on Twitter
@skuzzlescan
. This may just be the Aspirin talking, but I'm pretty sure the Skuzzles storefront has healing properties.