I'm a little ashamed to admit this, but I've only ever seen
The Rocky Horror Picture Show
in what was surely an edited-for-television broadcast. That's right, I'm a
Rocky Horror Picture Show
virgin, with "virgin" being the label for those who've yet to see the film in theaters. Adding insult to injury, I've never even seen the movie in its unabbreviated R-rated form. Sheesh. I've been told that watching
Rocky Horror
in crowded theater with a bunch of crazed fans dressed in full
Rocky Horror
attire is the only proper way to experience it, but for some reason or another, I've just never made it to a screening. Tonight's poster by Joshua Budich is not only a very clear reminder of something I still need to cross off my to-do list, it's also a great looking print by one of my favorite artists. Budich's
Rocky Horror Picture Show
poster also happens to be the first print made in collaboration with
The Loft Cinema
and my fellow movie poster obsessees at
Poster Collective
. Very cool.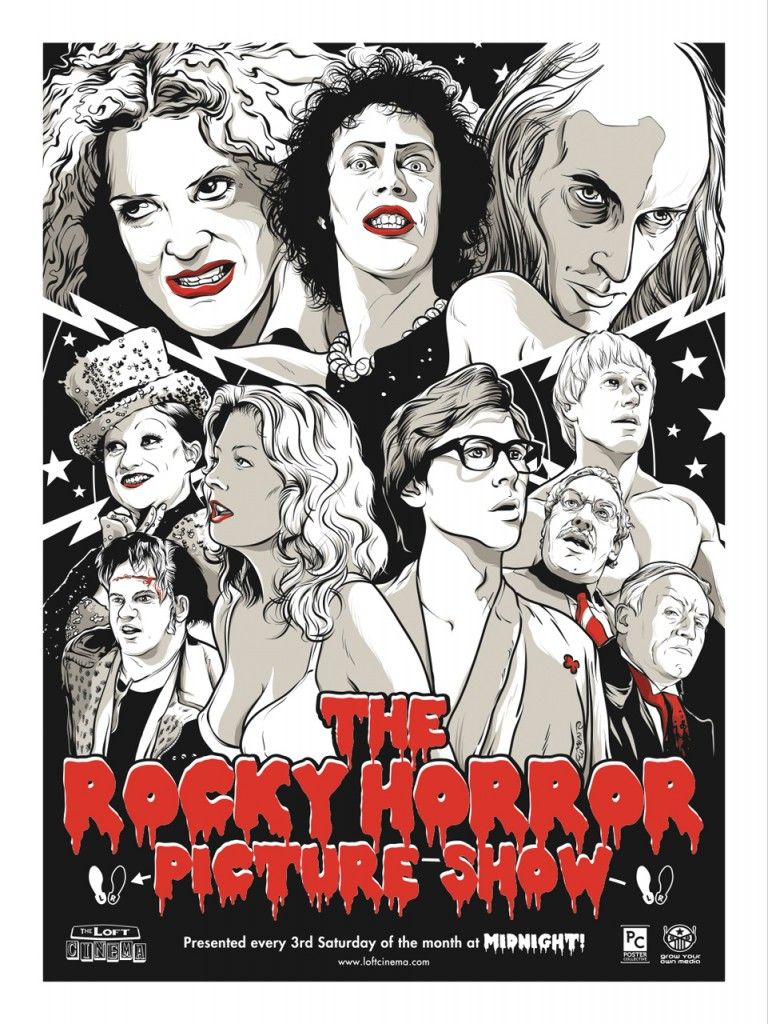 The Rocky Horror Picture Show Movie Poster
Joshua Budich
18" x 24" (Screen Print) - Numbered
$30 - Limited to 100
I really enjoy Budich's visual style for the same reason I enjoy the work of Martin Ansin and Tyler Stout. Their movie posters are like a tightly composed class photo that, despite all sense and logic, successfully cram every important character together (and make it look effortless). Budich's print juggles
The Rocky Horror Picture Show's
unruly cast and manages to create a dynamic symmetry by integrating the iconic RKO radio waves, which seem to be exploding out of Tim Curry's intense pose. I also wanted to mention the color, or lack thereof, Joshua decided on. In certain cases, such a limited color palette, especially stacked up against some of Mondo's more prismatic offerings, may seem wanting, but given the film's campy respect for old sci-fi, horror and B-movies, it feels like the perfect fit. In doing a little research about the film, I found the following on
IMDb
:
"The film was originally intended to be shown in black and white until Frank's entrance, and then only his lips would be in color: the rest would still be in black and white, up until the end of 'Sweet Transvestite,' at which point it would go immediately to color, and then it was supposed to stay in color up until the 'Superheroes' song."
I'm not sure if this tidbit is something Joshua happened upon while creating this poster, but it definitely adds a fun dimension to the work in my opinion. Whatever the case may be, it's a great print for a movie I desperately need to re-watch.
Joshua Budich's
Rocky Horror Picture Show movie poster
is currently
available
for
pre-order
for $30 through
Poster Collective's website
. The
print
measures 18" x 24", is hand numbered, and will be limited to an edition of 100. As an FYI for those interested in learning more about the poster's creation, there's a
great interview
at the
Poster Collective
with Budich. And for those interested in movie posters of all shapes (though mostly rectangular if I'm being honest) and sizes, again, go ahead and visit the
Poster Collective
. To see more of Joshua's work, head over to
joshuabudich.com
and follow him on Twitter
@jbudich
. Looking forward to see what the Poster Collective gang comes up with next!