Hey all! How's everyone doing? As you probably noticed, I've been MIA recently for a variety of reasons that may or may not include laziness, video games, a murderous gang of old-timey vagabonds and work, work, work, but that's all about to change my friends. Oh yes, that's all about to change. My goal from the beginning of this site's creation was to post something interesting each and every day. With this in mind, I decided to resurrect a feature I employed back in my Darrell Street* days. I think I called it "Poster of the Day" or something to that effect. However, in the interest of trying to maintain the illusion of originality, which, let's face it, is already long gone, I decided I needed to come up with a new and even catchier title.
If you read this site, you already know I tend to write reviews for film and television inspired prints that are either currently on sale or are about to go on sale. And while I'll still be pouring the majority of my efforts into these sorts of posts, the new daily feature will solely focus on awesome posters or prints that have long since sold out or never existed in the first place (AKA concept posters). These won't be lengthy posts, but I'll do my best to include some colorful commentary for every image I select.
So, here's what I'm asking of you: help me think of a title. Maybe it rhymes, maybe it's an alliterative tongue twister, maybe it's inspired by a movie title or television character. Who knows? It's completely up to you. Now for the awesome part: whoever comes up with the best title, wins a Deathtrap movie screen print by Jacob Van Loon! Pretty sweet, right? Please leave a comment below with your idea(s) (there's no limit on how many titles you can submit) and an email address. This contest is open internationally. You read that correctly! Now have at it!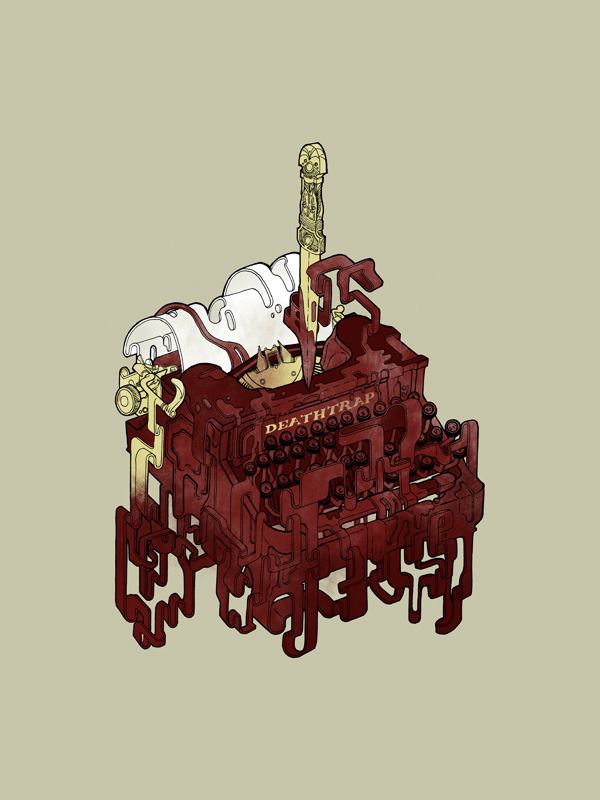 Deathtrap Movie Poster
Jacob Van Loon
18" x 24" (Screen Print) - Numbered
Sold Out - Limited to 35
*Darrell Street was
a tiny little poster site, much like Posterocalypse, that I created a few years back