I first learned about
Jordan Debney
a few months back and had been planning on including some of his work in an early "Art Appreciation" column of mine. Fast forward to today, June 25th, and I've yet to write about the guy. This has nothing to do with him, it's more a testament to my unorganized life and debilitating bouts of laziness. But when I spied the print he did for James Wan's
Insidious,
I decided now was my chance to strike (and by "strike" I mean write about his art).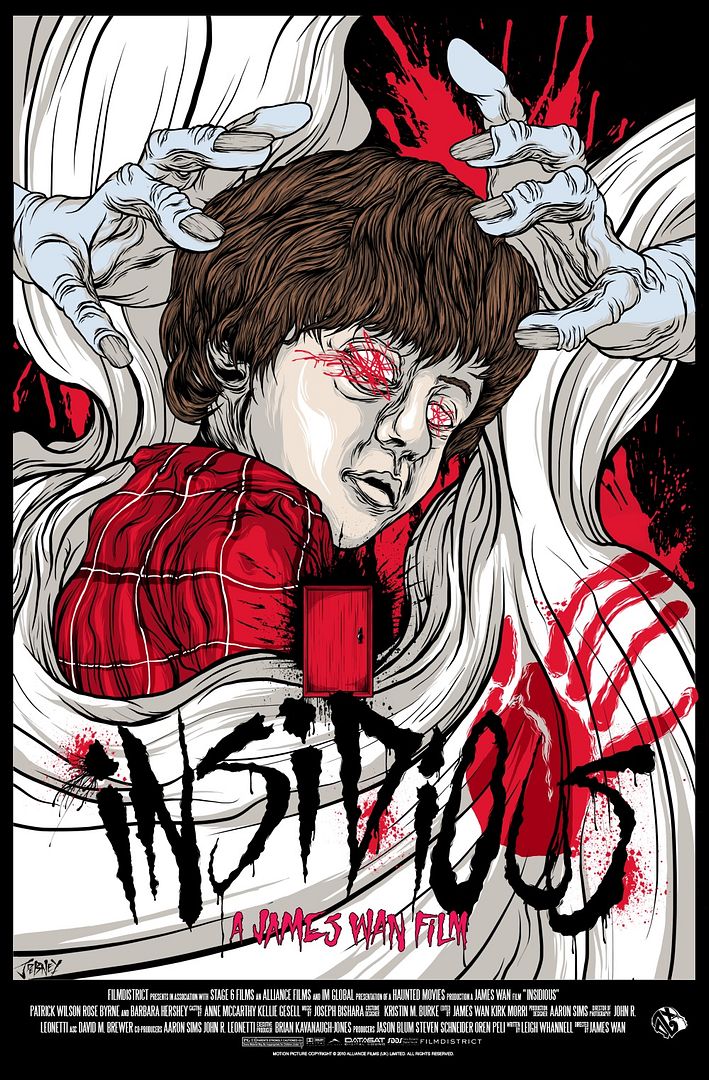 Insidious Movie Poster
Jordan Debney
24" x 36" (Screen Print) - Numbered
$60 - Limited to 300
Insidious
was a film that impressed me, but I could never love. It takes the tried and true haunted house model and then turns it on its head by adding a dose of interplanar travel. It's a cool concept that I felt was never properly explored by Wan and company. That said, Debney's poster captures what I think was the most compelling aspect of the film, that's right, the aforementioned wibbly wobbly timey wimey* astral projecting shenanigans teased at in the story. Jordan's twisting, turning and warping of his subjects is visually splendid and a bit unsettling given the design's surreal properties and unnatural proportions. And those decrepit hands. My god, those hands are ghoulish in all the right ways. My only real complaint with the poster is the child's face. Perhaps it's contorted on purpose, but the nose and mouth area just look a little off to me. And again, that could be 100% purposeful. Other than that minor gripe, this is a wonderful tribute to a film I didn't fall head over heels for, but can certainly respect. Bottom line: if you dig the film and you're digging Debney's artwork, which has a bat shit crazy Alex Pardee vibe to it, then this print is a must buy, buy, buy.
Jordan Debney's
Insidious movie poster
is currently
available
for
preorder
through
Kickstarter
for $60. The
print
measures 24" x 36", is limited to an edition of 300, and was commissioned by
DzXtinKt Originals
. To learn more about Mr. Debney, head over to
eyerupture.com
, where you can also pick up a few of Jordan's prints and apparel. And I'm out! Good night everyone!
* Stole that from
Dr. Who
.