Duuun dun duuun dun dun dun dun dun dun dun BOM BOM dun dun dun dun dun dun doo dedoo doo dedoo dede doo dede doo dededoo. For those unsure of what just happened, that was the
text version
of the
Jaws
theme song. And if you're still confused, I'll go ahead and direct you toward the two images below. And if you're STILL not grasping what I'm writing, you're gonna need a bigger boat. Sorry, couldn't help myself.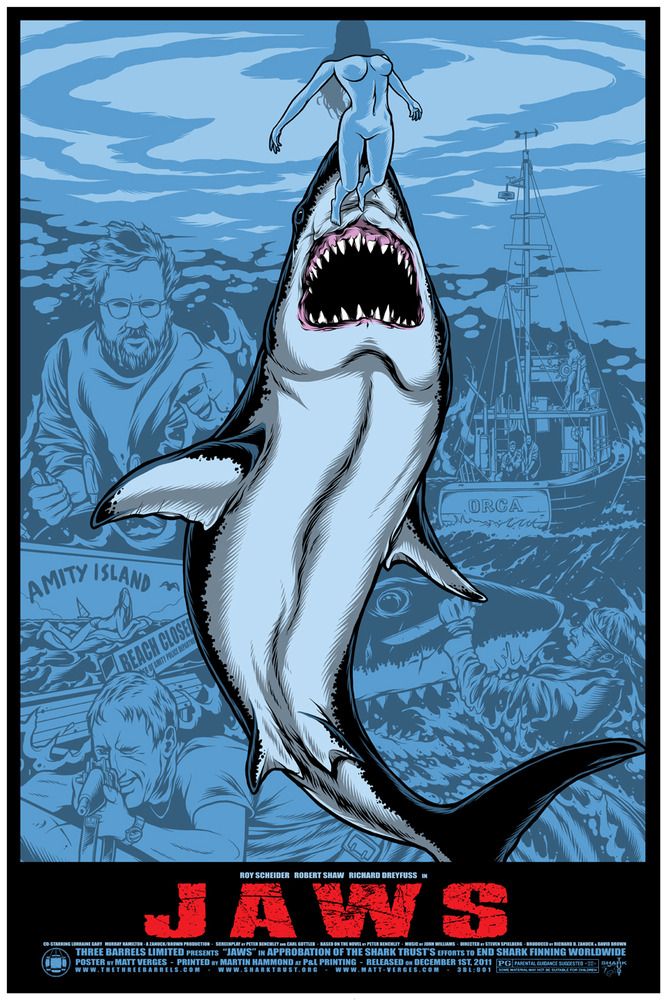 Jaws Movie Poster
Matt Verges
24" x 36" - Signed and Numbered
$24 - Limited to 150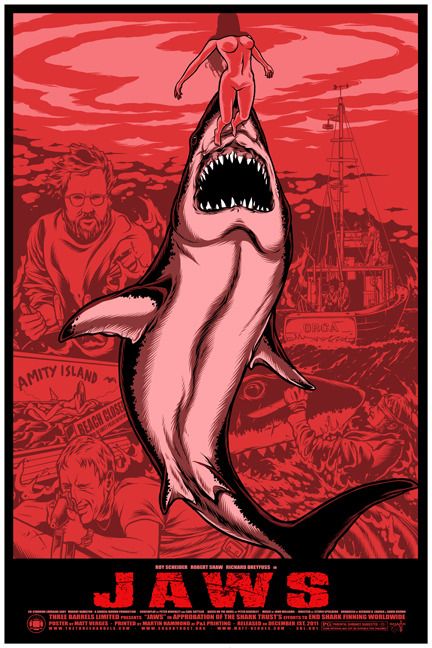 Jaws Movie Poster (Variant)
Matt Verges
24" x 36" - Signed and Numbered
Sold Out - Limited to 50
I wasn't all that familiar with Matt Verges' portfolio, but I'm really impressed with these prints. One of the first things I noticed, besides the massively terrifying shark and voluptuous skinny dipper-cum-shark chum, which are pretty hard to miss, was how perfectly the inconspicuous background scenes complement and flesh out Matt's shark-infested composition. In many ways the design reminds me of Tim Doyle's artwork with its thicker lines and comic book-like sensibility. I'd even go so far as to say that these posters would make for some utterly kickass
Jaws
comic covers, or a jaw-dropping (wordplay!) first page as there already appear to be several comic-friendly panels present, the majority of which are cleverly divided by the shark's body. And while I still would have appreciated this artwork if the background images were darker and more easily visible, the fact that the Verges wisely chose to not bring the smaller illustrations to the forefront shows he understands exactly why people wanted to see
Jaws
in the first place - a grotesquely large shark and the ominous threat of attack lurking beneath the water's placid surface.
Unfortunately, I got to this one a little late, meaning the red variant was already sold out (sorry), but the insanely affordable
regular version
in
aqua blue
is still
available
through the
Three Barrels Store
at
threebarrels.bigcartel.com
. The
regular version
measures 24" x 36", is limited to a version of 150 and only costs $24. Yes, you heard right, only $24 for a 24" x 36" screen print! It gets better! A portion of the money made from these posters goes to the
Shark Trust
, a group based out of the UK dedicated to shark conservation around the globe. It's a win-win folks! For more info on The Three Barrels, head over to
thethreebarrels.com
and follow them on Twitter
@TheThreeBarrels
. And to learn more about artist Matt Verges, you can visit
matt-verges.com
, check out his
blog
, and buy stuff from his
store
. Sweet!