When I
wrote
about the previous batch of
Cowboys & Aliens Mondo posters
I acknowledged that, while I had heard some not-so-great things about the film, I was hoping for the best and still fairly optimistic about Favreau's latest. Well, it's four months later and I still haven't seen the film, but I think that might be a positive at this point, because I won't be influenced by my thoughts on the film, disappointed or delighted, and can appreciate Florian Bertmer's beautiful artwork for what it is. Beautiful artwork.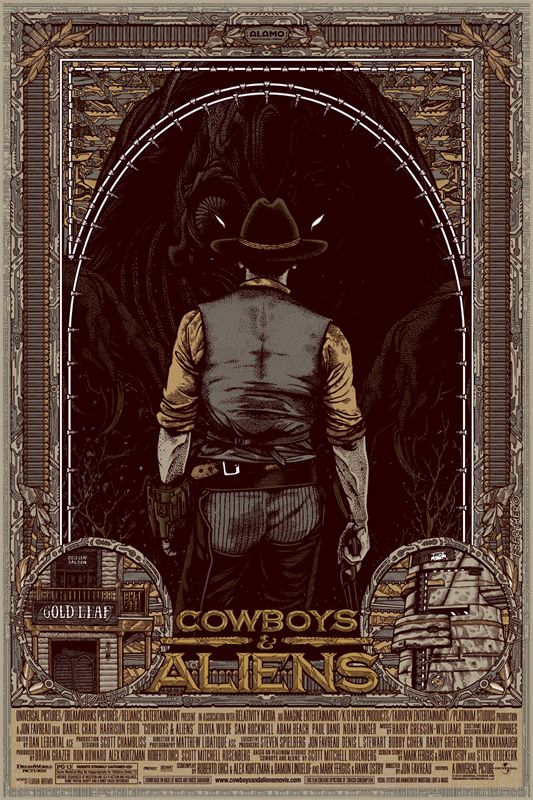 Cowboys & Aliens Movie Poster
Florian Bertmer
24" x 36" - Numbered
$45 - Limited to 170
Where to start? How about the seriously incredible framing of Daniel Craig's cowboy, Jake Lonergan, and the hulking mass of an alien he's facing? It's amazing how seamlessly Florian is able to to use the space creature's massive body to pierce the part bullet, part circuit board border, and I haven't even mentioned how intricate the design is yet. One thing that always blows me away when I look at a Bertmer print is how absolutely PACKED his posters are with detail. I have the distinct feeling that if Florian ever created a piece of art that was solely made up of a single black circle on a white background, that circle would be the most detail-crammed orb you'd ever seen (and he'd probably turn it into a pentagram if you let him). Bertmer's artwork is always a joy to view and while I haven't seen the film, the brilliant artwork alone justifies a purchase in my opinion.
Florian Bertmer's
Cowboys & Aliens movie poster
will be
available
tomorrow (12/6) at a random time through
Mondo
. The
print
measures 24" x 36", is limited to an edition of 170 and will cost $45. To get the exact drop time be sure to follow Mondo on Twitter
@MondoNews
. And if you'd like to learn more about the very talented Florian Bertmer, head over to his website at
florianbertmer.blogspot.com
and the
Moon Editions shop
.