This one is going to be a bit short, because I'm sure it'll sell out quickly, but I thought it was so sharp that I had to share it with as many folks as possible.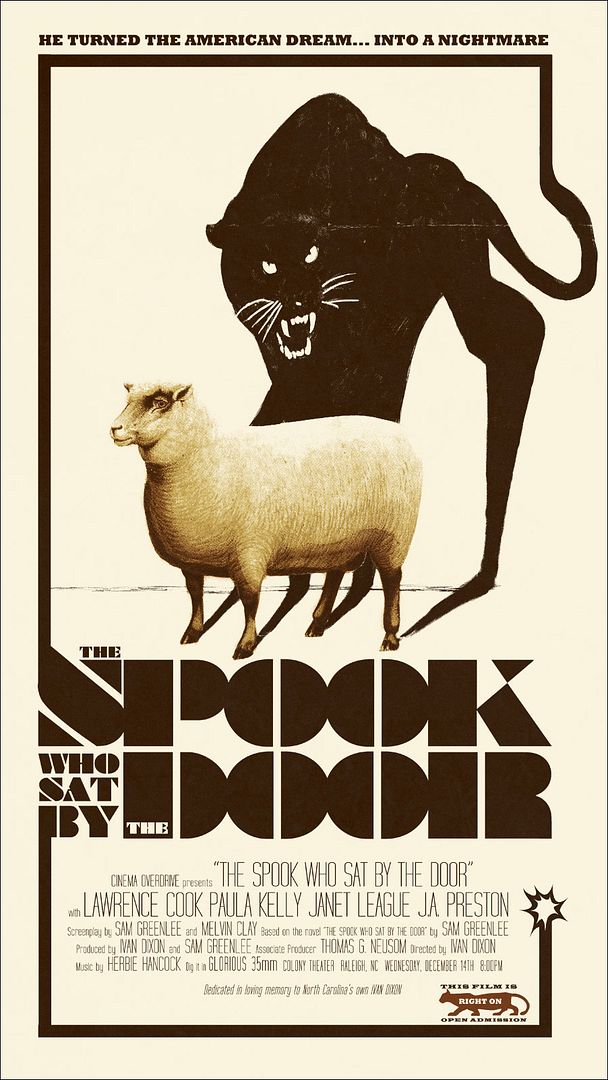 The Spook Who Sat by the Door Movie Poster
Iron Jaiden (AKA Jay Shaw)
13" x 24" - Signed and Numbered
$25 - Limited to 73
Any fans of Blaxploitation cinema are going to want to grab this.
The Spook Who Sat by the Door
is a film (and a book) that I'm not personally familiar with, but I've heard and read about. And with what little I know about the film, I feel confident in saying this is a superb poster. I could include the plot in text form, but I think the trailer does a much better job of conveying the plot and tone of the film. Check it out below:
There are symbols aplenty in this poster, but let's start with most visible. The sheep, which represents how people view our hero Dan Freeman, the titular "Spook" (with "spook" being a word with multiple meanings in this case), is an animal that's both harmless and a follower. With that said, the trailer clearly makes the case that this couldn't be further from the truth, as we see the (literally) explosive black panther shadow (another symbol!) that the powerless farm animal casts. Add to that the brilliant retro design, along with the inclusion of the credits from the
original one sheet
(or at least a spot-on facsimile), and you've got yourself an awesome little print.
Iron Jaiden's
The Spook Who Sat by the Door movie poster
is currently
available
through
Cinema Overdrive's online store
. The
print
measures 13" x 24", is limited to an edition of 73 (the film was released in 1973) and costs $25. To learn more about Cinema Overdrive, check out
cinemaoverdrive.net
. And if you're interested in seeing more of Iron Jaiden's artwork, be sure visit
kingdomofnonsense.com
and follow him on Twitter
@tweetofnonsense
. Have a great night everyone.