Joe Wilson
, an artist I've recently come to adore, just released
two new posters
(four if you count the two
Blade Runner variants
), but his
True Grit print
may well be my favorite.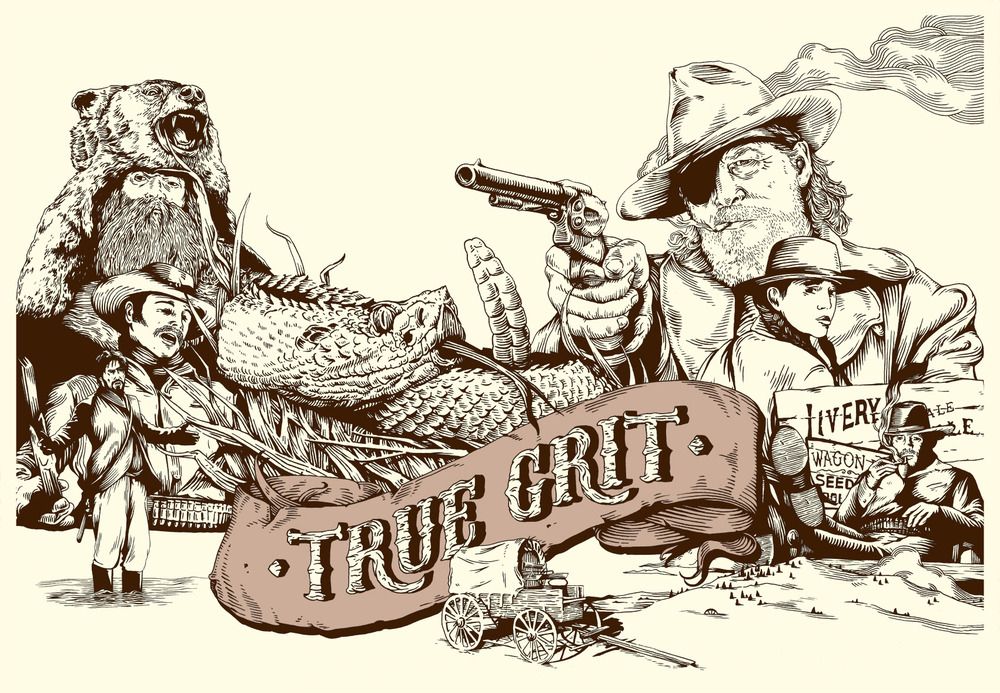 True Grit Art Print
Joe Wilson
600 mm x 410 mm (23.622" x 16.142") - Signed
£60 - Open Edition
Rightly or wrongly, I was fairly vocal about my dislike of
Horkey's True Grit artwork
, not because I thought Horkey did a bad job, he didn't, but because I wanted to see more of the film's characters (characters that I felt made the
movie
so memorable) included in the design. Well, I'm happy to report that this is the poster I'd been waiting for. Joe's finely detailed style, similar in many ways to Horkey's, lends the artwork a rugged wood-hewn look that would be perfectly at home in the story's untamed universe. Unlike his more minimal (just to be clear - I don't mean minimalist)
Blade Runner
print, Joe's
True Grit
poster has so many different things going on that it can be hard deciding where to actually focus your attention. Whether it's Rooster Cogburn pointing his Single Action Army revolver, or my personal favorite, the Bear Man and his stoic gaze, this print is able to pack pretty much every important character into its 24" x 16" confines. And that, my friends, is a beautiful thing.
Joe Wilson's
True Grit art print
is currently
available
through
Joe Wilson's storefront
for £60 (around $94). The
giclée
measures 600 mm x 410 mm (AKA 23.622" x 16.142") and is an open edition, meaning there's no limit to this run, or more accurately, you can order as many of these as you want until the artist decides to remove it from his website. For more Joe Wilson goodness, be sure to check out his website at
joe-wilson.com
, his
store
, and follow him on Twitter
@joe_wilson
. Here's hoping we see more from Joe in the near future!