When I discovered this poster was being released tomorrow, tonight's post was a no brainer for me. I LOVED (yeah, all caps) this show when it was on and cried tears of tearful sadness when it was canceled after only two seasons. As a little background, I had seen pictures of this poster when the Alamo Drafthouse held their
Party Down
marathon in June, but had no idea how to actually get my hands on one. Until now, that is.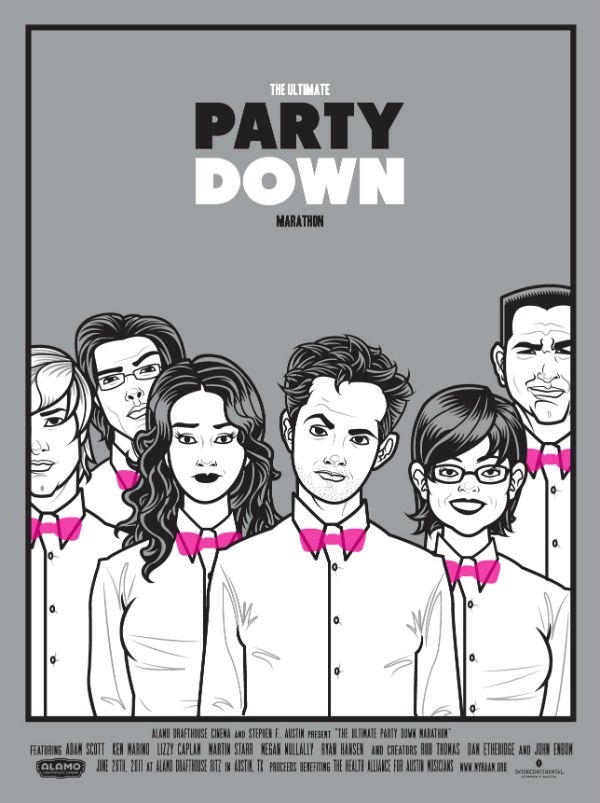 Party Down Marathon Poster
Scrojo
18" x 24"
$75 - Limited to 60
Much like the show, this poster is pretty minimal;
Party Down
was never really about the sets (well I guess it was, kind of), it was about the interactions between the characters and the hilarity that ensued. Running with the minimalist theme here, how great is it that the only real color is the team's bow ties? That's just too perfect and adds a really dynamic element to the sparse design. And I'm not sure if this is true (please correct me if I'm wrong), but it looks like the grey background may actually be more of a metallic silver, which would be absolutely beautiful in person. If there's one thing I could nitpick, it would have to be the lack of Jane Lynch's Constance Carmell in the poster. Sure, she wasn't in every episode, but she was such an integral part of the show and was a bit more memorable than Megan Mullally's Lydia Dunfree in my opinion. Then again, Jane Lynch wasn't at the marathon in person, so it makes sense why she wasn't included.
Scrojo's
Party Down marathon poster
is currently available through the
D. King Gallery store
for $75. The
poster
measures 18" x 24" and is limited to 60 (that's a small run). And if that's not enough for you, Scrojo's
The Big Lebowski poster
will be
available
tomorrow for $50. To learn more about Scrojo head over to
scrojo.com
. Are we having fun yet?!