You may have heard about the
"The Machines Are Winning: A Tribute To Sidney Lumet"
show curated by John Vogl and Jay Shaw and thought it was just another movie-themed art show, but after checking out the work below, I think you'll agree the quality here rivals and in many cases exceeds what we see coming from Mondo and Gallery 1988. I was thinking about covering all of the art currently available, but that sounded like a lot of writing, so I'm just going to stick to the four pieces I purchased (and are somehow still available through the
Kingdom of Nonsense
store).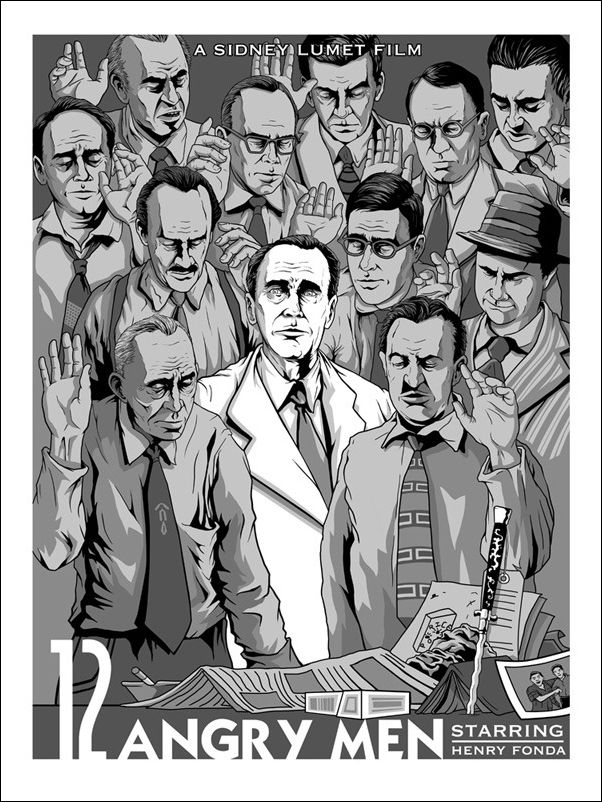 12 Angry Men Movie Poster
Kevin Ang
18" x 24"
$30 - Limited to 35
I love this film.
12 Angry Men
is a movie I've probably seen about ten times in my life, and about eight of those times were in school (for some reason public schools seem to love
12 Angry Men, Roots
, and ironically
Ferris Bueller's Day Off
). Kevin Ang, an artist I'm not really familiar with, has done a great job capturing the eclectic (and by "eclectic" I mean white male) group of angry jurors, complete with the circumstantial evidence in the forefront. His use of black and white is certainly a nice touch and his depiction of the righteous and reasonable juror number 8 (Henry Fonda) is appropriately inspired. Kevin Ang's
12 Angry Men poster
is available through the
Kingdom of Nonsense store
for $30. The
poster
measures 18" x 24" and is limited to an edition of 35. If you're a fan of the movie, this is a must own, and if you haven't seen the movie, then you should know that
Criterion
is coming out with a newly remastered version of the film on DVD and Blu-ray in November and plan accordingly.
Fail-Safe Movie Poster
Lloyd Stas
18" x 24"
$30 - Limited to 35
I stand by the statement that
Dr. Strangelove or: How I Learned to Stop Worrying and Love the Bomb
is my favorite film of all time - it's the most perfect piece of cinema in existence in my opinion (alright, "perfect" might be a tad extreme). But if I was to list a few more of my favorite nuclear doomsday films, you can bet that
Fail-Safe
would be near the top of that list. If the name Lloyd Stas is familiar to you, it might be because of his outstanding
concept posters
celebrating Edgar Wright's filmography that took the Internet by storm. Well, Stas has once again proven he's an incredible artist with a great eye for some of the deeper and less surface elements in the films he chooses to cover. In this fantastic
Fail-Safe
print, Lloyd focuses on General Black's nightmarish visions of the matador, and has taken some artistic license and made the bull-bomb metaphor a bit more explicit and a lot more beautiful. Lloyd Stas'
Fail-Safe poster
measures 18" x 24", costs $30, is limited to an edition of 35 and is
available
through the
Kingdom of Nonsense store
. To learn more about Lloyd I recommend checking out
lloydstas.co.uk
, his
Tumblr
and following him
@lloydstas
.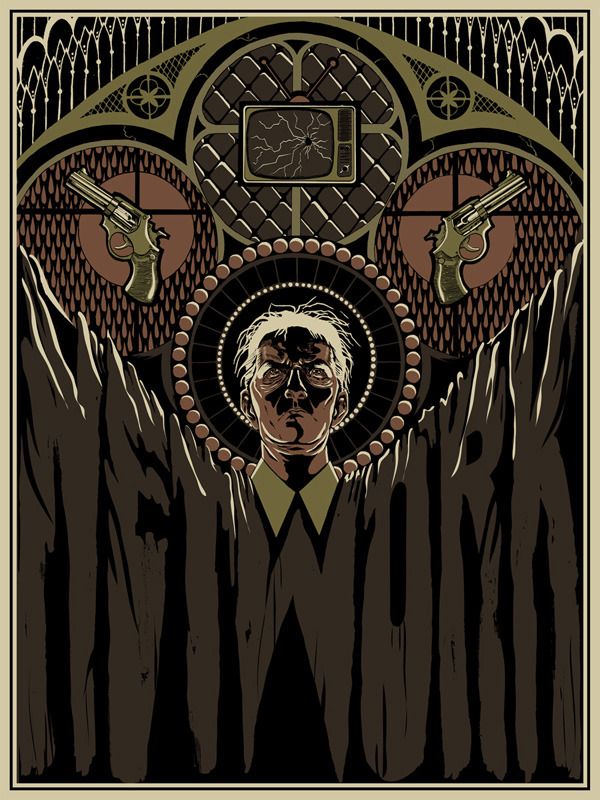 Network Movie Poster
Mayra Fersner
18" x 24"
$35 - Limited to 35
Network
is by far my favorite Lumet movie. I heard about the film when I was in high school, when I thought
Requiem for a Dream
(which by the way is an awesome film) followed by a viewing of
Donnie Darko
was the zenith of cinematic appreciation - in other words: I had a lot to learn. Films like
Network
were gateway drugs of a sort and introduced me to the likes of
Putney Swope
and
Dr. Strangelove
. Given the special place in my heart that
Network
holds and Mayra's beautiful design work, this poster has to be my favorite of the bunch. Her interpretation of the television anchor-cum-prophet is pitch perfect and practically exudes the piety that Howard Beale preached to the television-watching masses. Mayra Fersner's
Network poster
is available for purchase through the
Kingdom of Nonsense Big Cartel store
. The
poster
costs $30, measures 18" x 24" and is limited to an edition of 35. Like the vast majority of the artists mentioned in this blog, I'd never heard of Mayra before, but will definitely be waiting to see what she does next. Be sure to check out Mayra's blog at
hagcult.com
, her
Tumblr
and follow her
@HagCult
.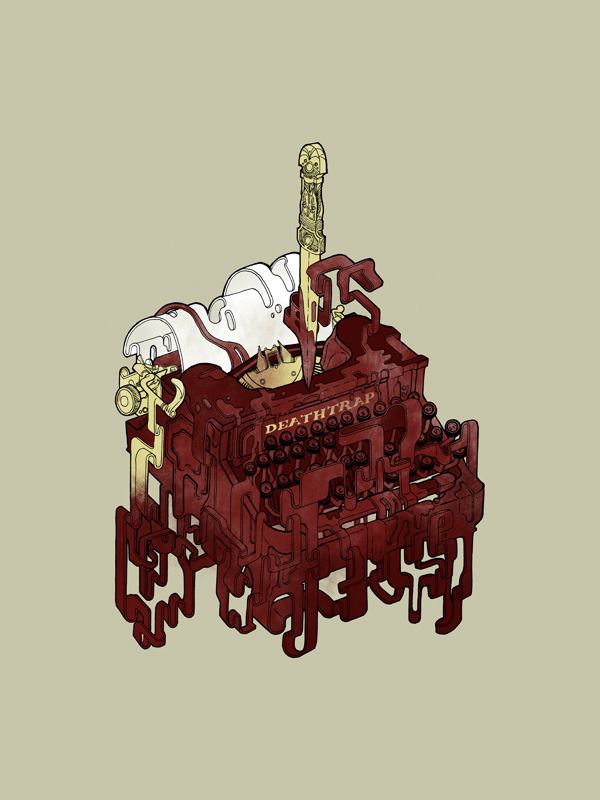 Deathtrap Movie Poster
Jacob Van Loon
18" x 24"
$35 - Limited to 35
I'll be honest. I've never seen
Deathtrap
, but I bought this print on the quality of the art alone. It's absolutely gorgeous! It's like M.C. Escher,
Inception
, and
In the Mouth of Madness
had a mutant baby that mind-bendingly bended my mind. Is it a bad idea to purchase artwork for a film you've never seen? Not when the it looks this good! In full disclosure: after purchasing this print I immediately added
Deathtrap
to my
Netflix Instant Queue
. Jacob Van Loon, the creator of this work of art, is another artist I had no familiarity with, but will devoutly follow from this point on. Jacob's
Deathtrap print
is available through the
Kingdom of Nonsense storefront
for $30. The
print
measures 18" x 24" and is limited to an edition of 35. To learn more about Jacob be sure to visit his blog at
jacobvanloon.com
, his
Tumblr
and follow him
@tvparty
. I'm totally tempted to get another one of these just to give away in a contest - brilliant stuff!
...And that's what I bought from the show. There's still
fifteen posters
available through the
Kingdom of Nonsense store
, so my brief reviews for the four prints above are only a fraction of the awesome on display. To read about the future comings and goings of show organizers, Bill Vogl and Jay Shaw, be sure to visit
thebungaloo.com
and
kingdomofnonsense.com
.