UPDATE 1 (9/12): Sold out through Mondo, but Jon just put his copies of the print up on his Big Cartel store. Go! Go! Go!
I love that Mondo is releasing their
Dumbo
poster on the same day they're releasing their
It's Alive
print - there's something brilliantly twisted about that. I picture professional looking men and women in Disney's Burbank headquarters wiping sweat from their brow as its revealed to them that their family friendly 1941 classic (there's no denying it's a great film) will be immortalized via a Mondo screen print at the same time as Larry Cohen's schlocky 1974 cult horror flick is. I know, I know, Disney probably knew well in advance that this was the case and are completely okay with it, still, it kind of makes me giggle.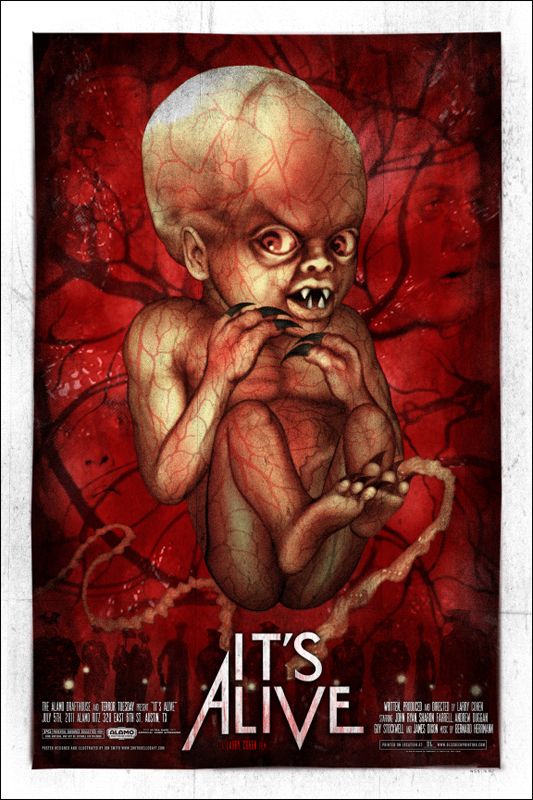 "It's Alive" Movie Poster
Jon Smith
24" x 36"
$40 - Limited to 120
This poster is gross, but that's a good thing in this case. When I first saw Jon Smith's print I was immediately reminded of the insanity that is hand drawn Ghanaian movie posters. Now I know what you're thinking
That's crazy Darren! Crazy!
But hear me out, or rather take a look at a few examples below and let me know if you disagree.
| | | |
| --- | --- | --- |
| Slither | Krull | Child's Play |
So what do you think? I'm not a hundred percent sure of what it is that made me draw a connection between the two; maybe it's the use of shadow to convey definition, or the overall smoothness of the image, but the resemblance is striking in my opinion - and I really dig it! And like many Mondo prints I have the distinct feeling that this is another poster that needs to be seen in person to truly be appreciated. Unlike
yesterday's print
, which is mostly made up of thick black lines, Smith's poster seems to feature an insane amount of little details from the almost transparent veins that run across our favorite mutant baby to images of police and civilians alike that appear to be superimposed on the mother's viscera. If you're a fan of creepy, disgusting (but awesome) artwork like I am, or you just really want to piss off your girlfriend/wife this is a must own. Oh yeah, and if you like the movie it should be an obvious purchase as well. That too.
Jon Smith's
It's Alive poster
will be available at a random time tomorrow (9/9) through
Mondo's website
. The
poster
costs $40, measures 24" x 36" and is limited to an edition of 120. If you'd like to learn more about the artist, Jon Smith, head over to
smithbellcraft.com
and follow him on
@Jon_Smith
. Have a very happy Friday folks and good luck!