I last
wrote
about
Strange Kids Club's
fantastic "what if" poster series in mid-October. And here we are, not even a full month later, with yet another killer print. Following Nathan Milliner's inspired
The Burning 2 artwork
, SKC hooked up with artist Oliver Barrett to celebrate the rabid, drool-covered sequel that never was. That's right, I'm talking about
Cujo
. More specifically, I'm talking about
Cujo II
. I mean, who wouldn't want to see a film with a tagline like, "More Dogs. More Rabies." Right? I rest my case. While there's a decent amount to highlight here, my favorite element in the poster has to be the eyeball in the dog's mouth. No contest. Here's what Oliver had to say about designing this print:
"Cujo appealed to me because it's one of those few horror films that still holds up to this day. While a rabid dog wreaking havoc on a small family is pretty outlandish, I could put myself in that situation and be terrified of a giant [bloodthirsty] St. Bernard. A sequel would have been equally outlandish, so that helped me make the decision to put together this bunch of rabid pups."
I can relate. Granted, chances of my Shih Tzu - Terrier mix going all "Cujo" on me anytime soon are slightly more outlandish than
Cujo II
becoming a reality.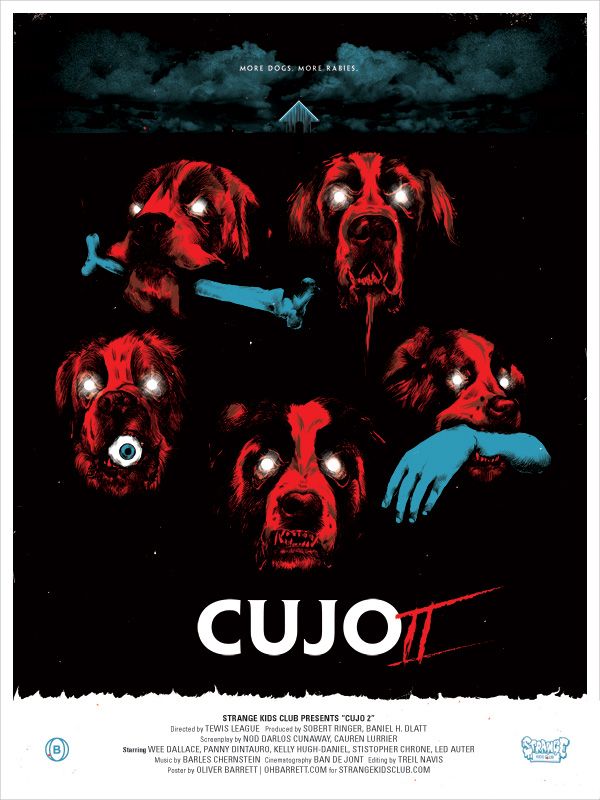 Cujo II Movie Poster
Oliver Barrett
18" x 24" (Giclée) - Numbered
$35 - Limited to 25
Oliver Barrett's
Cujo II movie poster
is currently
available
through
Strange Kids Club
for $35. The
giclée
measures 18" x 24" and is limited to an edition of 25. To learn about the next print in the "sequels you never knew you wanted" series, be sure to visit
strangekidsclub.com
religiously and follow
@strangekidsclub
on Twitter. And for more info on the artist, you can check out
oliverbarrettdesign.com
,
ohbarrett.com
, his
Tumblr
, and follow him
@oliverbarrett
. I don't know about you, but all of this killer canine stuff is reminding I need to revisit the Lance Henriksen-starring
Man's Best Friend
.