It's barely 2013 and Mondo has already released the screen printed Kraken. Can you believe Thursday's
Jaws
and
E.T.
prints will mark the second and third Spielberg movies posterized by the Austin-based boutique in as many weeks into the new year? And it's making quite the impression if one's to look at, oh, practically any movie blog on the Internet.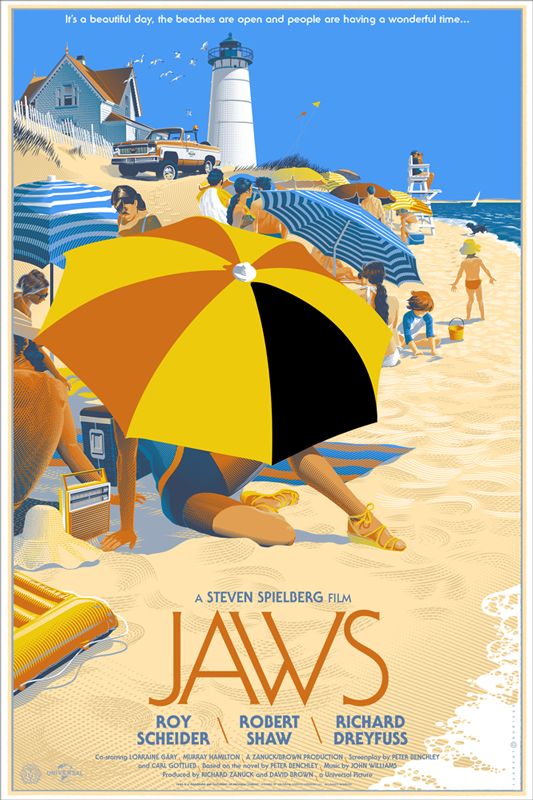 Jaws Movie Poster
Laurent Durieux
24" x 36" (Screen Print) - Numbered
$60 - Limited to 525
Laurent's
Jaws
design makes for one classy poster and happens to be the perfect ambassador for the taut, restrained direction and storytelling which made Spielberg's shark story so terrifying. The bright colors and cheerful composition, like a happy snapshot before a gruesome murder, are much more unnerving than any grisly crime scene could ever be. Mondo's
Jaws poster
will be
available
through
their website
at a random time on Thursday (1/17) for $60.
The print
is limited to an edition of 525 and measures 24" x 36". For more info on the artist, check out
Durieux's Flickr account
.
E.T. Movie Poster
Mike Mitchell
36" x 24" (Screen Print) - Numbered
$45 - Limited to 475
On the opposite end of the creepy spectrum, we have Mike Mitchell's sunny
E.T.
print. You know when it's really hot (like scorchingly so) and your exhausted to the point that passing out and being pecked at by vultures is becoming alarmingly likely? You know what I'm talking about. And then suddenly your three best buds appear with four ice cream cones. "Why four," you ask? Because one of those cones is for you! Fist bumps all around. That's kind of how I feel about this print: good in a fuzzy sort of way. The
E.T. poster
will also be sold through
Mondo
on Thursday (1/17) at a random time. The
screen print
measures 36" x 24" and is limited to an edition of 475. Head over to
sirmikeofmitchell.com
and follow
@sirmitchell
on Twitter for more Mike Mitchell-related news.