I felt like this was an appropriate follow-up to yesterday's
"The Man from Gallifrey" post
, because in much the same way
Doctor Who
fans have their favorite Doctor, pretty much anyone with a pulse has a favorite Bond. Mine would probably be Connery, but there's no denying that that's the safe choice. And while I don't think Lazenby was the best Bond or that
On Her Majesty's Secret Service
was the best Bond film, I do have a lot of respect for what Peter Hunt was attempting to do by ditching the gadgets and trying to more closely reflect
Ian Fleming's original books
.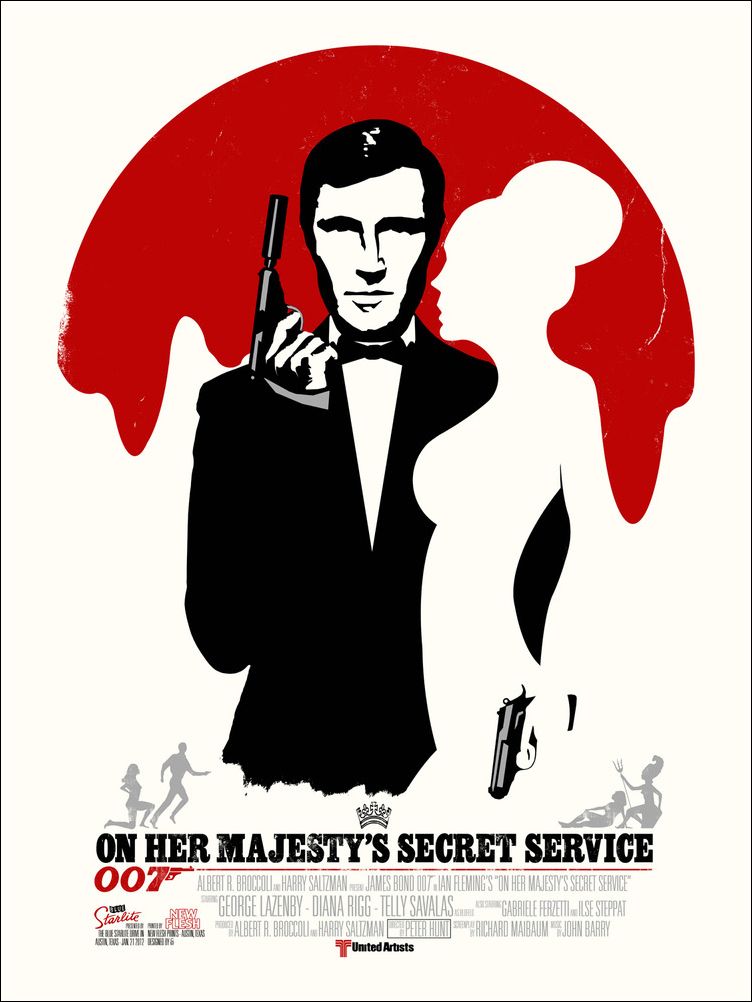 On Her Majesty's Secret Service Movie Poster
Craig McDaniel
18" x 24" - Numbered
$25 - Limited to 50
Craig McDaniel's poster celebrates the only actor who played Bond just once, and it's a very classy depiction of George Lazenby at that. The print wonderfully captures the sophisticated and debonair image that 007 has so cultivated since his inception by paying tribute to Bond's iconic mannerisms with an elegantly understated design. I think what I like most about McDaniel's
Majesty's Secret Service
poster, is that Bond has a sort of stencil graffiti quality to his construction. I could picture Lazenby's face stencilled on the sides of buildings across a vast metropolitan landscape. Yeah, I know I'm weird. Strange street art ruminations aside, I also love the poster's restrained use of color, which not only tells the viewer that, yes, this is most definitely a Bond film, but also serves as a fantastic background and helps form the silhouette of 007's female companion. Craig McDaniels on what he was attempting to do with his design:
"There are so many different images that seem to be strictly associated with Bond. So coming up with something that features Bond-like imagery while doing something original is a challenge. I wanted to cover the bases of a Bond poster while staying minimalistic in design. The blood dripping from the gun barrel, the classic pose, the female silhouette are all old style Bond imagery and I wanted to combine them in a way that compliments them all. The characters under the main figures are designed after the title sequence as is the crown above the main title. The part of the poster I am most pleased with would have to be the way the female silhouette flows with the cutout of Bond and the dripping of the blood. Designing something for this under-appreciated Bond adventure was a joy, and who knows, maybe someday I'll have a poster for each film in the series."
McDaniel's
On Her Majesty's Secret Service poster
will be
available
through the
New Flesh store
on Monday (1/23) at 10:30 AM CST. The
print
measures 18" x 24", costs $25 and is limited to an edition of 50. To learn more about artist Craig McDaniel you can visit
popworkmedia.com
, and to keep up with everything New Flesh related, be sure to visit
newfleshprints.com
and follow them on Twitter
@newfleshprints
.