Ki ki ki ch ch ch ki ki ki ch ch ch. Apologies if that made no sense, that was my attempt at textually recreating the well-known musical cue that often signaled the death of a curvy coed or Kevin Bacon at the hands of a murderous murderer. However, if that first sentence did make sense to you, congrats, you're as strange as I am or you just really know your
Friday the 13th
. Either way, tonight's post is dedicated to some killer artwork (I know, I know, I'm awful) from
Dan Mumford
!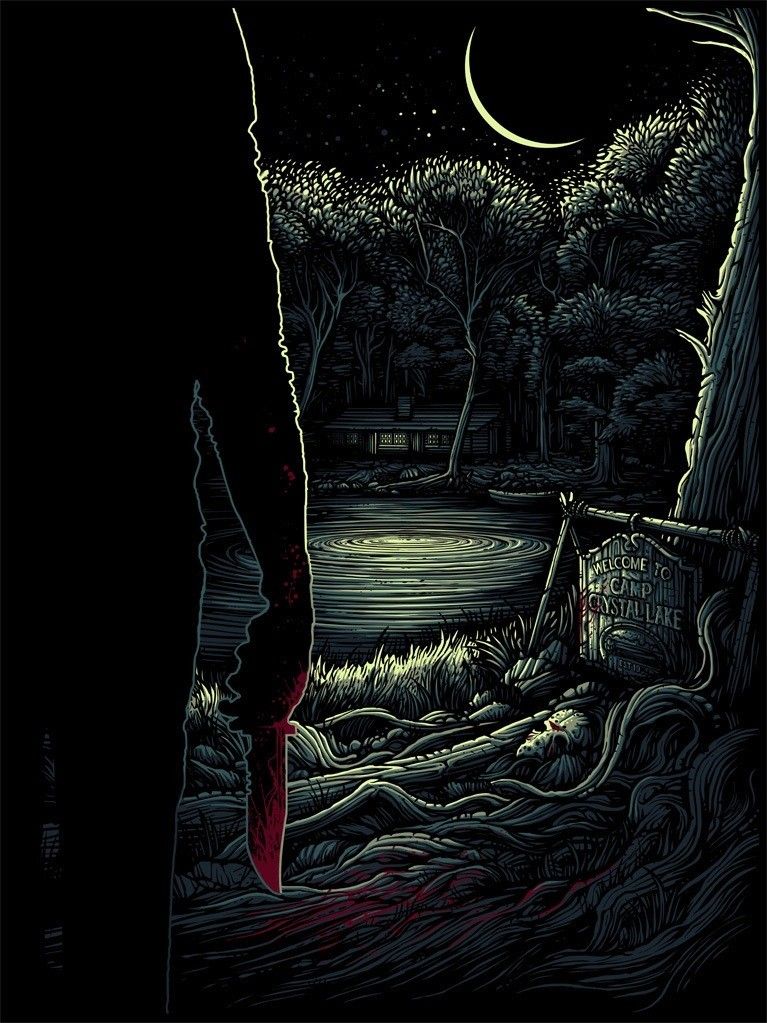 Friday the 13th Art Print (Regular)
Dan Mumford
23.25" x 31" - Signed and Numbered
£35 (around $54) - Limited to 150
Friday the 13th Art Print (Variant)
Dan Mumford
23.25" x 31" - Signed and Numbered
£50 (around $77) - Limited to 75
If you read my "
Top Twenty Posters of 2011
" feature, you may have noticed Mr. Mumford made the cut with his grotesquely spliced and mutated
Fly print
. Dan, not willing to rest on his laurels, is at again, this time with some new prints featuring the much-loved slaughterers of libidinous lads and lusty ladys - the Vorhees. I say "slaughterers" (plural) because, as many of you already know, there's more than just one serial killer in the Vorhees family. Dan's posters seem to acknowledge that point by playfully including a knife-wielding silhouette and a rather iconic looking hockey mask beneath the Camp Crystal Lake sign. These
Friday the 13th
inspired prints are great because, in addition to featuring the artist's now trademark use of fibrous tendrils to shape a lot of the background and foreground, Mumford makes a very recognizable, and I'm assuming loving, nod to the film's beautiful original one sheet painted by Alex Ebel (included below). It's something that immediately occurred to me, as I'm sure it did to many people, when I first saw the announcement, and I think it really does a great job of capturing the film's sense of mystery and foreboding without having to go for the jugular. Literally. Don't get me wrong, I'm a fan of the ultra violence and gore as much as the next guy, but I really appreciate a little artistic restraint now and again. I can't wait to see what movie he targets next! I'm thinking
Texas Chainsaw Massacre
. What say you?
Original Friday the 13th (1980) One Sheet
Alex Ebel
Dan Mumford's
Friday the 13th artwork
will be
available
tomorrow (1/13) through
Dark City Gallery
at noon GMT (4 AM PST for us West Coast people). It's kind of awesome that they planned a
Friday the 13th
release on Friday the 13th, isn't it? Both
prints
measure 23.25" x 31" and are signed and numbered. The
regular version
is limited to an edition 150 and costs £35, while the
variant
is limited to 75 and will cost £50. To learn more about artist Dan Mumford, you can visit his website at
dan-mumford.com
and follow him on Twitter
@danmumforddraws
. If you'd like to keep up to date with all things Dark City Gallery, and I highly recommend you do, you should of course visit their
website
, and follow them
@darkcitygallery
, but definitely sign up for the
mailing list
.