UPDATE (1/2): I was a little early with my guesstimated release time, but the regular version of the print is now available for purchase through Dark City Gallery! The variant has already sold out, so now's your chance! Go, go, go!
It's hard to believe I've never written about anything created by the supremely talented
Malleus Rock Art Lab
, but that's all about to change thanks to a series of what are sure to be beautiful movie prints. To my great pleasure, Dark City Gallery recently announced that they're teaming up with Malleus to celebrate nine, yes NINE, of Dario Argento's key films. The first of those films is the 1970 giallo entry,
The Bird with the Crystal Plumage,
or as it's known in its native land,
L'uccello dalle piume di cristallo
. Behold!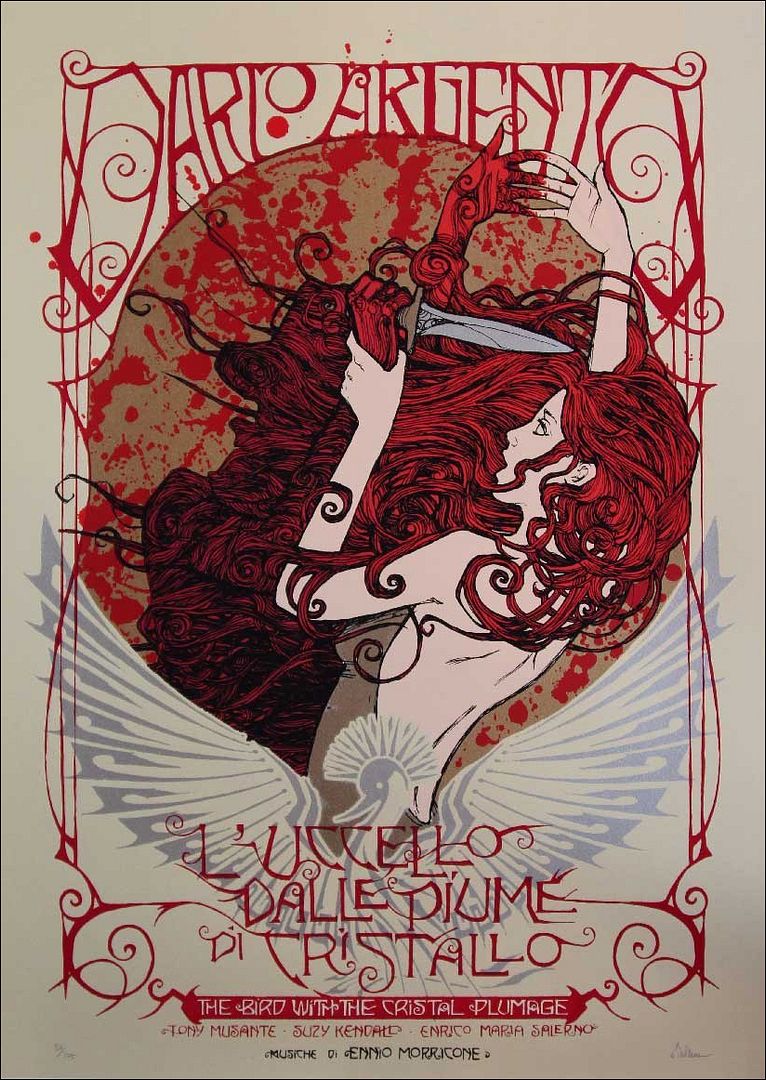 L'uccello dalle piume di cristallo Movie Poster (Regular)
Malleus
19.5" x 27.5" - Signed and Numbered
£40 (around $63) - Limited to 175
I think I'm in love. I'm not sure I've ever seen posters that more perfectly reflect the tone and innate Italianism of Argento's giallo filmography. This is a bit of a tangent, but if you've ever seen an older Italian film, whether it's
The Bird with the Crystal Plumage
or
A Fistful of Dollars,
you probably noticed the somewhat questionable dubbing on display. The same can be said of the locales featured in early Italian cinema - whether the story claims to take place in New York or London, there's usually one or more scenes featuring a distinctly Italian or Spanish setting that clearly state otherwise. I mention this, not as a comment on Malleus' extraordinary artwork, but to illustrate how, even when an Italian film was trying not to be Italian, there were some pretty clear (and now nostalgically charming) giveaways. Could there be a better group of artists to pay tribute to Argento's directorial debut than the Italy-based Malleus Rock Art Lab? Based on the two prints included in this post, I'd say it's a pretty clear "no."
Malleus has done a masterful job of injecting the posters with the mysterious and violent elements that made Argento's films so titillatingly fun to watch, but also manages to make it wholly their own (seriously, nobody does
sentient hair
like Malleus does). And much like the film, the artist(s) managed to blend the gory and disgusting, as represented by the bloody splatter, with the beautiful and graceful, as exemplified by the titular bird behind the film's title. As far as I'm concerned, these posters are breathtaking in their execution and bode very well for the rest of the Dario Argento print series. I can't wait to see what's next! Logically, my money is on
The Cat o' Nine Tails
.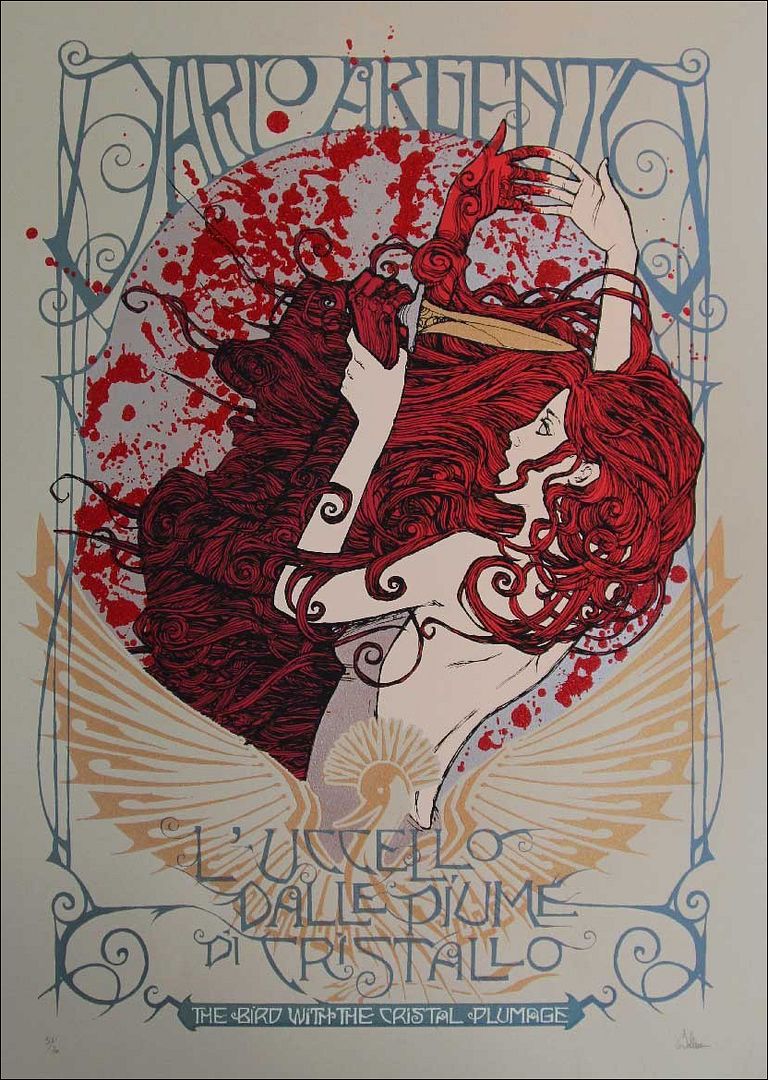 L'uccello dalle piume di cristallo Movie Poster (Metallic Ink Variant)
Malleus
19.5" x 27.5" - Signed and Numbered
£60 (around $93) - Limited to 70
Malleus'
The Bird with the Crystal Plumage movie posters
will be
available
through
Dark City Gallery
on Monday (12/2) at around noon GMT, meaning 4 AM PST (i.e., very early for us West Coasters). The
posters
measure 19.5" x 27.5" and will be signed, stamped and numbered. The
regular version
will cost £40 (approximately $63) and be limited to 175, while the
metallic variant
will cost £60 ($93) and is limited to an edition of 70. To learn more about Posterocalypse favorite Dark City Gallery, be sure to visit
darkcitygallery.com
and follow them on Twitter
@darkcitygallery
. And to learn about the artist collective known as the Malleus Rock Art Lab head over to
malleusdelic.com
and follow
@malleusdelic
. Pretty simple, right? Good luck people!