I vaguely recall watching
Bill & Ted's Bogus Journey
in theaters as a child and being traumatized by one scene specifically. It featured an old woman, I believe it was Bill's grandmother, and she was trying to give him a kiss, or she wanted a kiss - I don't remember exactly. Her teeth were disgustingly yellowed and just altogether awful looking. In short, Bill wanted none of that. Unfortunately, beyond the old lady and a decidedly creepy bunny, I didn't retain much of the film's story. I do however remember coming home from the theater, quite enjoying the film and ready to hit the hay. At the time, my mom and I had just moved to a new city and didn't yet have a house to live in, so we were staying with my grandparents. My grandma, a very sweet lady, wanted to give me a hug before I went to bed (as grandmothers are wont to do) and flashed a warm smile - after seeing the
Bill & Ted
sequel I knew I wasn't going anywhere near those choppers. My grandma didn't have decrepit, gross-looking teeth like those in the movie, but she did have old people teeth, something somewhat indefinable but instantly recognizable, and that did not jive right with me at all. I made a huge stink about how there was no way I was hugging that old lady who claimed to be related to me and received a few choice words from my mom. All in all, it wasn't my finest moment, but is still surprisingly fresh in my memory. I mention this not because I've decided to solely use this blog as a tell-all for every embarrassing moment I've created and / or survived, but to introduce the following radical
Bogus Journey
print by artist Matt Tobin.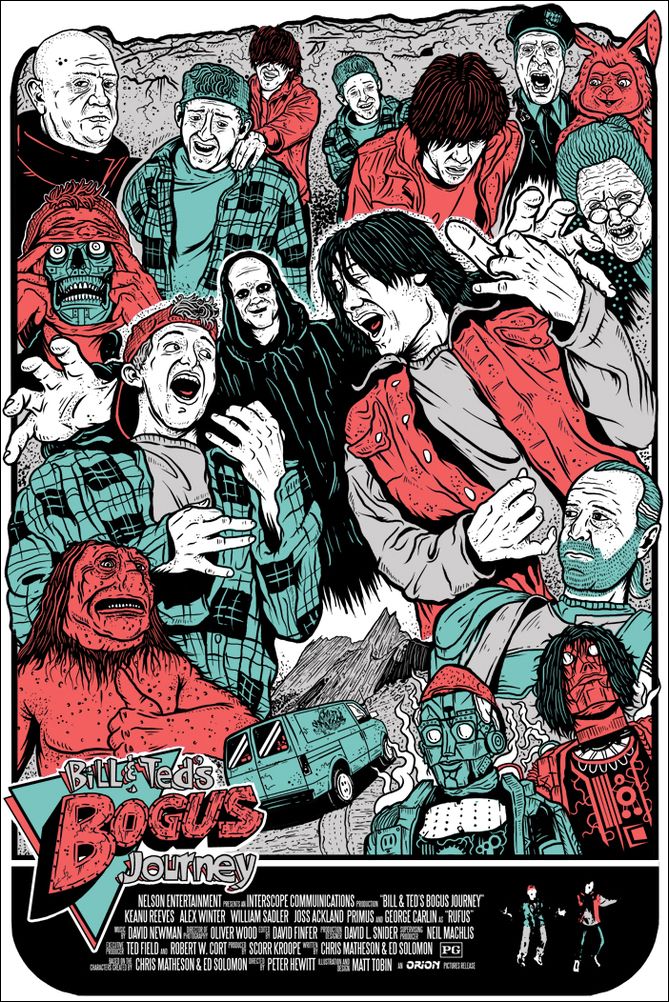 Bill & Ted's Bogus Journey Movie Poster
Matt Tobin
24" x 36" - Numbered
$30 - Limited to 250
Some of you may have already seen this poster before - I know I've been meaning to write a post on it for quite a while now. As mentioned in my introduction, there's not a lot I remember about the movie
Bill & Ted's Bogus Journey
other than the fact that it's got some crazy stuff going on and I think part of it takes place in hell, which actually sounds like a film I would love to watch nowadays (so I should probably get on that). But even with what little I can recall from
Bogus Journey
this artwork knocked me off my feet so much so, that I felt the need to write about it. Matt Tobin, an artist I wasn't at all familiar with, managed to include almost every character, creature or otherwise, within the poster's 24" x 36" boundary, but also paid careful attention to the designing and detailing of each figure. His art has a gritty and incredibly detailed look to it. In fact, when I first saw this print I was reminded of the intricate work of artist
Geoff Darrow
. Granted, I think Darrow's attention to detail is a bit more meticulous and granular than Tobin's, but there's no denying that Matt seems to take an exhaustive approach to his art.
In my quest to find out more about the artist I stumbled on a great interview between
billandted.org
, a website dedicated to the
Bill & Ted
franchise, and Matt Tobin. Here's what Matt had to say about his design (excerpt taken from
billandted.org
):
"I had always wanted someone to release a silk screened poster for Bogus Journey, and now I was the dude to do it. A lot of pressure. I was drawing entire large pieces and scrapping them over and over. I did it over the course of two days. I knew I had to have the Vasquez Rocks in the poster cause of its famous ties to so many films / tv shows. As well as if not both, either Evil Bill or Evil Ted pulling their face off (a scene from which I would have my dad fast forward past cause being 5 years old, that terrified me) - so that was important...I think I got everything in I wanted to. We got the good robots, Granny, Oats, Bunny. One thing I knew from the get-go was I wanted the top of the poster to be the cliff scene."
A job well done I'd say. One more thing I wanted to mention about the film, then I'll shut up. How cool is it that
Bogus Journey
makes reference to Bergman's
Seventh Seal
with its Grim Reaper character? I love that! It's certainly a reference that flew way over my head as a youngster.
The
Bill & Ted's Bogus Journey poster
is currently
available
through Christopher Ott's
London 1888 storefront
. The
poster
only costs $30, which is a steal in my book, measures 24" x 36" and is limited to 250. And for those diehard
Bill & Ted
fans, there's an
Alex Winter signed version
for $50! To learn more about artist Matt Tobin, you can checkout his
blog
,
portfolio
, and follow him on Twitter
@mattryantobin
. While you're at it, it's probably not a bad idea to follow Christopher Ott
@deadinlondon
either. Be excellent to each other. And... PARTY ON, DUDES!