If you visit this site with any regularity, you already know I tend to write reviews for film and television inspired prints that are either currently on sale or are about to go on sale. And while I'll still be pouring the majority of my efforts into those sorts of posts, my daily "Poster Per Diem" feature will focus on awesome prints that have since sold out, never existed in the first place (AKA concept posters) or just bear mentioning. In other words: this is my chance to say, "I never got a chance, for whatever reason, to write about you on this here website, but I think you're really purty and I want to let the world know." Or something like that. Oh, and Per diem is latin for "per day" or "each day."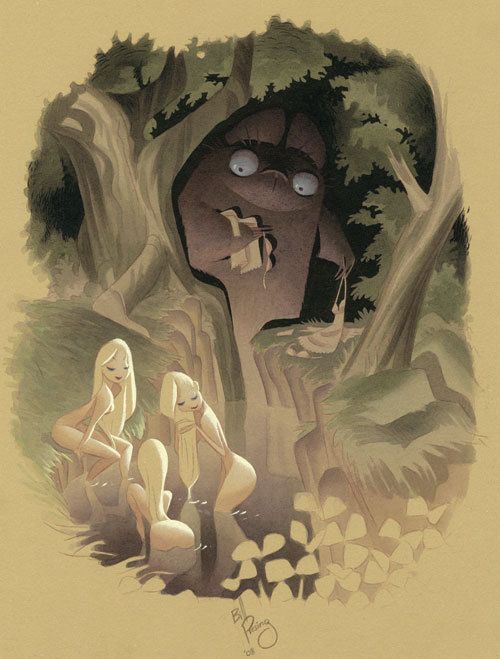 "Peeping Totoro" Art Print
Bill Presing
13" x 16.5" (Giclée) - Signed
$30 - Edition Size TBD (May be an open edition)
Inspired By: My Neighbor Totoro
Happy Labor Day / Monday folks! I felt the need for a bit of the ole funny stuff today and found this inspired take on what Totoro (of
My Neighbor Totoro
fame) does when he isn't helping little Japanese kids get through tough times. It turns out he's a bit of perv. This hilarious and
great looking print
is currently
available
through the
Nucleus Gallery website
for $30.
"Peeping Totoro"
is part of the
Totoro Forest Project
, which means a portion of the proceeds will be going to
Hayao Miyazaki's Totoro No Furusato National Fund
. To learn more about artist Bill Presing, be sure to visit
billpresing.blogspot.com
and his
deviantART profile
.