First things first, apologies for the lack of updates everyone. It's been a busy, busy, week or two for me recently. I not only left my job of several years last Friday, I'm getting married this weekend. Separately, those two things would probably be enough to throw me off my game or, at the very least, interrupt my regularly scheduled posting. But together, they've created the perfect storm that has made publishing anything on Posterocalypse all but impossible these past few days. So, here goes nothing.
I heard about
"Mucho Machismo"
a few weeks ago and was instantly intrigued. For those of you with your head cocked sideways and a quizzically raised eyebrow, "Mucho Machismo" is a poster show put on by
Spoke Art
and curated by artist
Jon Smith
. Here's Jon's mission statement (taken from his
blog
):
"Violence is cool. So are guns and explosions. When it's fake. It's okay to be tough and flex your muscles as long as you're a good guy and you say your prayers and take your vitamins like a real American. Pain don'thurt.
These are just some of the truths prescribed from the hyper violent media that saturated the late 70's, 80's and 90's. The golden age of the action movie, professional wrestling and the dawn of arcade fighting games and the first person shooter provided endless yet completely ridiculous entertainment to generations.
'Mucho Machismo' embraces the spirit of this era as modern action movies are now PG-13 and video games are hyper realistic and less cartoony in their violence."
I, like many of you, reveled in the over-the-top violence of yesteryear, when the kicks and punches were often as badass as they were hilariously ridiculous. And I can assure you that
"Mucho Machismo"
sports some of the most unapologetically testosterone-filled artwork I've seen all year...and it's a beautiful, beautiful thing. Jon has assembled an A-list group of folks and put something together that should speak to the heart of anyone who fondly remembers when high fives were without irony and puns were an integral part of the enemy murdering process. Below, I've selected a few of my favorite pieces from the show that still happen to be available for purchase, but in all honesty, there's not a bad apple in the bunch.
"They Live" Art Print
Smithe
18" x 24" (Screen Print) - Signed and Numbered
$50 - Limited to 100
Inspired By: They Live
"I have come here to chew bubblegum and kick ass... and I'm all out of bubblegum." These are the words that changed a generation! Okay, hmm, maybe it wasn't that big a deal, but I think we can all agree that
They Live
is a great snapshot of 80s sci-fi action, features some amazing ideas, and boasts one of the most ridiculous fight scenes ever filmed. I don't know much about Smithe, but I love this print's execution and am really digging his line work. Smithe's
"They Live" print
is currently
available
through
Spoke Art's storefront
for $50. To see more of the artist's work, be sure to check out
his Tumblr
. Consume. Obey.
"Commando" Art Print
Grzegorz Domaradzki (AKA Gabz)
18" x 24" (Giclée) - Numbered & COA
$50 - Limited to 50
Inspired By: Commando

"Rambo" Art Print
Grzegorz Domaradzki (AKA Gabz)
18" x 24" (Giclée) - Numbered & COA
$50 - Limited to 50
Inspired By: Rambo
If it's Gabz, I'm in. It's that simple. Does it help that these prints celebrate the kings of 80s manliness? Well, yeah, of course it does! But it's Grzegorz's consistently gorgeous work and obvious passion for film that really take his art to the next level. I'm telling you, this guy is going to be making some big waves this year and next. I can feel it. (Note: I'm cheating a little bit by including both prints in just one section, but I'm having a hard time thinking about these posters apart from one another for too long, and I think we all know about Rambo's well documented separation anxiety and kennel cough.) The
"Commando"
and
"Rambo" giclée
are
now available
for $50 each. For more about info on Gabz, head over to
iamgabz.com.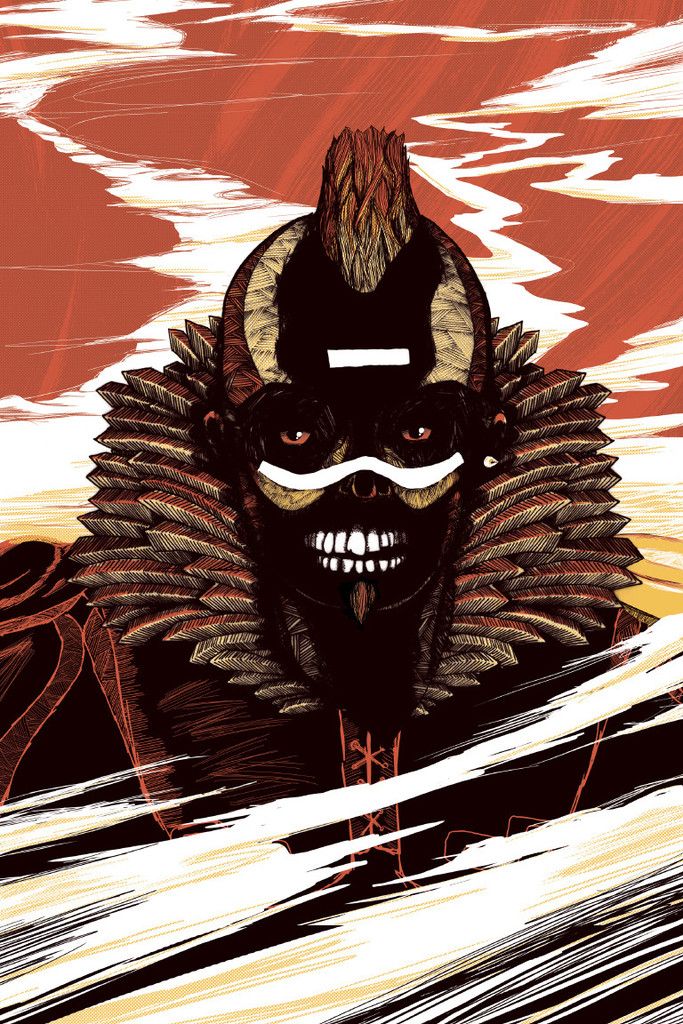 "Wez" Art Print
Kraken
18" x 24" (Screen Print) - Signed and Numbered
$50 - Limited to 100
Inspired By: Mad Max 2: The Road Warrior
Kraken's
Mad Max 2
inspired print is straight up terrifying. The artist took what was already a great character and somehow made Wez even more primal and predatory looking. Just a quick aside, this show has really exposed me to some great new artists. Case in point: I had absolutely no familiarity with Kraken initially, but thanks to "Mucho Machismo" will now be closely following. The
"Wez" poster
is
available
for
purchase
at $50. To see more of Kraken's work, be sure to visit
krakenkhan.com
and follow
@krakenkhan
on Twitter.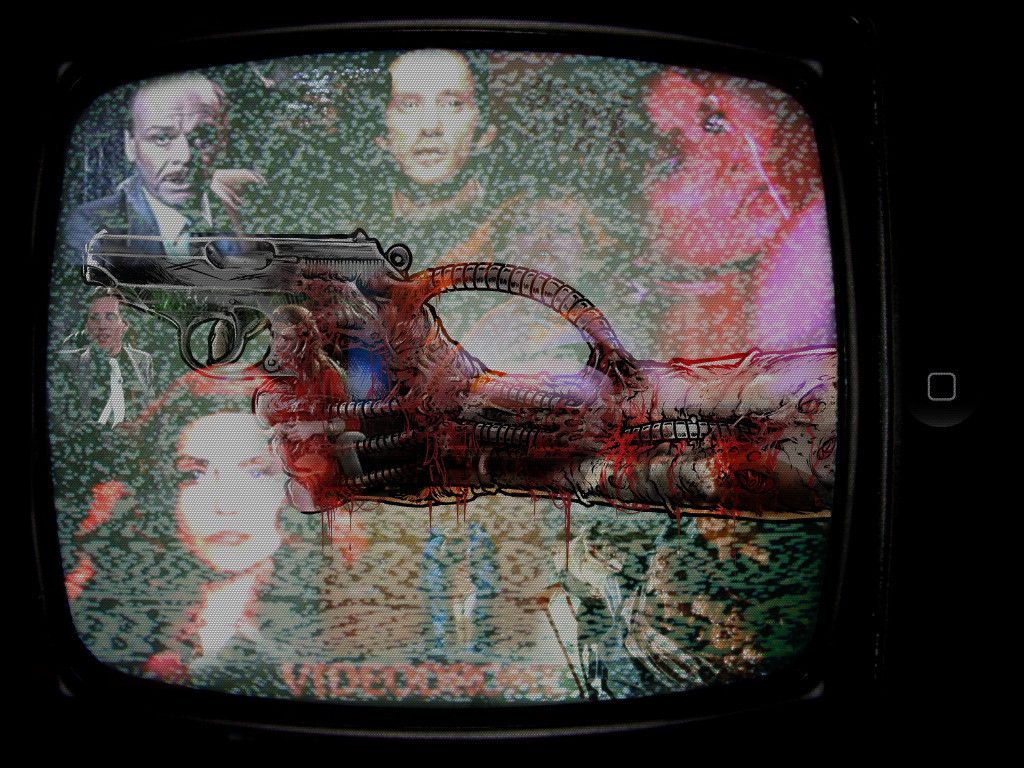 "All Hail the New Flesh" Art Print
Godmachine
18" x 24" (Giclée) - Numbered
$50 - Limited to 50
Inspired By: Videodrome
This may be the most cerebral piece of this bunch and I'm completely okay with that, because not only was the print inspired by David Cronenberg's best film (just my opinion - hold the hate mail, please), the poster was also conceived and created by artist / mastermind Godmachine. Beyond illustrating the film's grotesque / amazing flesh-gun, the artist has his boob tube for the 21st century set. It took me a while to figure it out, but there's an iPhone button on the right side of the set. It's little details like that that make this print stand out and show how clever an artist Godmachine is.
"All Hail the New Flesh"
is now
available
for $50 and is
limited
to an edition of 50. You can learn more about the artist by visiting
his blog
and following him on Twitter
@godmachineuk
.
"It's Always Sunny on Mars" Art Print
Tim Doyle
16" x 20" (Screen Print) - S / N
$40 - Limited to 80
Inspired By: Too Many Things to Count

"Murphy Delivers the Law" Art Print
Tim Doyle
18" x 24" (Screen Print) - S / N
$40 - Limited to 80
Inspired By: Robocop and Terminator